Sick ambulance staff put system 'at breaking point'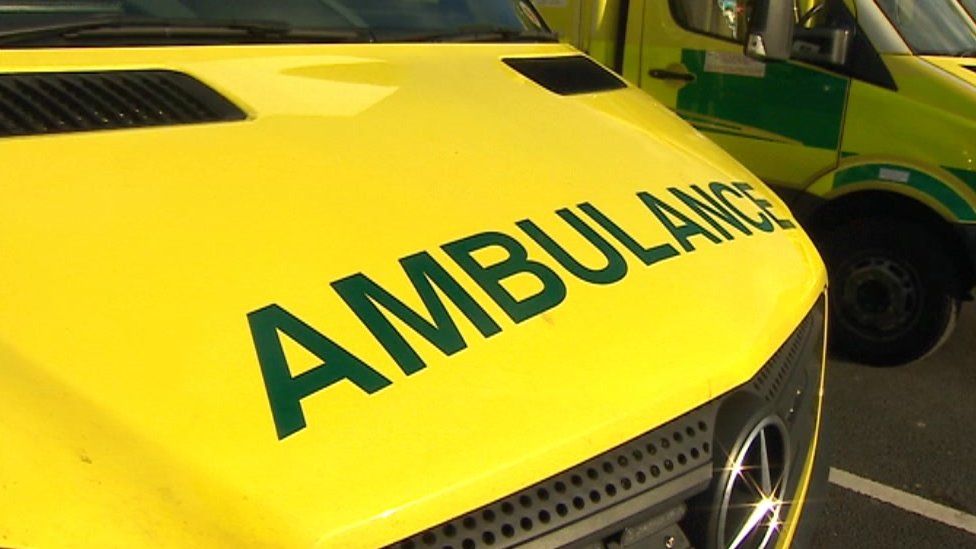 Sickness levels among paramedics have shown how close the system in Wales is to breaking point, it has been claimed.
The GMB Union said staff were fatigued due to increasing workload, a lack of breaks and working over their hours.
Figures show staff sickness at its highest level since 2014 - 8.8% and the highest for the first three months of the year since records began in 2010.
The Welsh Ambulance Service said winter was "one of the most difficult" and sickness was "particularly prevalent".
Between January and March, absences reached 8.8% while the overall figure across the healthcare system was 5.7%.
Over the same period in five of the last eight years, sickness levels were higher than other healthcare groups such as nursing.
Sickness absence rates are the total number of sickness absence days divided by the total number of available days for each group.
"The problem that's occurring is that for quite some time now we've been under resourced," said Nathan Holman, GMB branch secretary for the Welsh Ambulance Service.
"We've been under resourced plus the workload is increasing, people are not getting their breaks on time and are finishing late.
"Staff have started to become fatigued.
"A lot of work we do is very emotional - deaths, births - and we don't get a chance to take a step back.
"At some point the system is going to break and it's getting very close to that. The sickness levels are showing how close it is."
Mr Holman said staff were only human but sometimes felt an expectation for them to be "machines".
He accepted authorities were taking steps to reduce sickness levels but said the problems causing them were not being dealt with.
Hywel Daniel, deputy director of workforce and organisational development at the Welsh Ambulance Service, said: "As much as we like to think of our staff as superhuman, they sometimes become unwell and are unable to work.
"This was particularly prevalent over the last winter, which was recognised across the system as one of the most difficult winter periods on record.
"This saw an increase in the trust's sickness absence rates, which have now reduced to more normal levels."
Mr Daniel said levels had fallen since the winter and there were all sorts of reasons for absence including physical injury, stress and anxiety, but significant investment was being made to offer more support services.
He added: "We recognise, however, there is still more to do and we continue to work with our trade union partners to make further improvements.
The Welsh Government spokesperson said together with health boards and trade unions, they are working to "improve health and wellbeing of all staff" in the NHS in Wales.
"We recognise that as well as being one of the busiest winters on record for the NHS in Wales, the start of this year also saw very high incidences of flu," added the spokesperson.