Cardiff woman sews clothes for refugees in Calais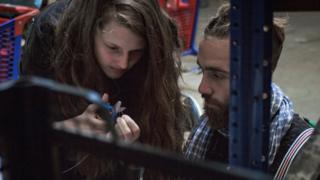 Their worlds have been ripped to shreds by terrorism and war, but one Welsh woman is trying to stitch back the lives of refugees living in the "Calais Jungle".
Sophie Congdon, 21, from Cardiff, is part of a group called Sew-Ho who make clothes for migrants in the camp.
Volunteers say it gives people much-needed clothing, amid claims refugees' belongings are "hacked up".
Pas-de-Calais officials insist police "follow strict ethical codes".
Sew-Ho receives daily donations of old and damaged clothing to a warehouse in Calais.
University of Hertfordshire student Ms Congdon is one of a team working together to make essential items out of what they can, creating drawstring bags and waterproof ponchos out of old tents.
Ms Congdon said that despite the camp's cluttered conditions, which she likened to the "end of a music festival", the atmosphere among migrants was wonderful.
However, she said she was shocked to learn the way refugees' make-shift homes were regularly torn down by the authorities.
"They do these things called clearances where they cordon off a section of the camp and then they make them hack up all their things - sometimes they'll confiscate items," she said.
"The idea is they kind of want to evict people and move people on.
"I don't get why they take the tents and things. I think it's just intimidation."
Although the group provides the basic items, Ms Congdon said one thing they often do is alter jeans to make them skinny.
She added it was important that the refugees could express their personalities through their clothing.
The Pas-de-Calais administrative department said the group's work "complement the many humanitarian services of the state".
But a spokesman insisted police conduct conformed to strict ethical and professional codes.
"Naturally anyone who believes they have witnessed a violation or misconduct can come forward to the IGPN [inspection générale de la Police nationale (national police inspectorate)] or the public prosecutor," he added.
"It must be noted, however, that the extraordinary complaints against the IGPN have not led to any conviction or indictment of a police officer for the abuse of a member of the groups or any migrant."