Coach's fight to secure mental health boxing club's future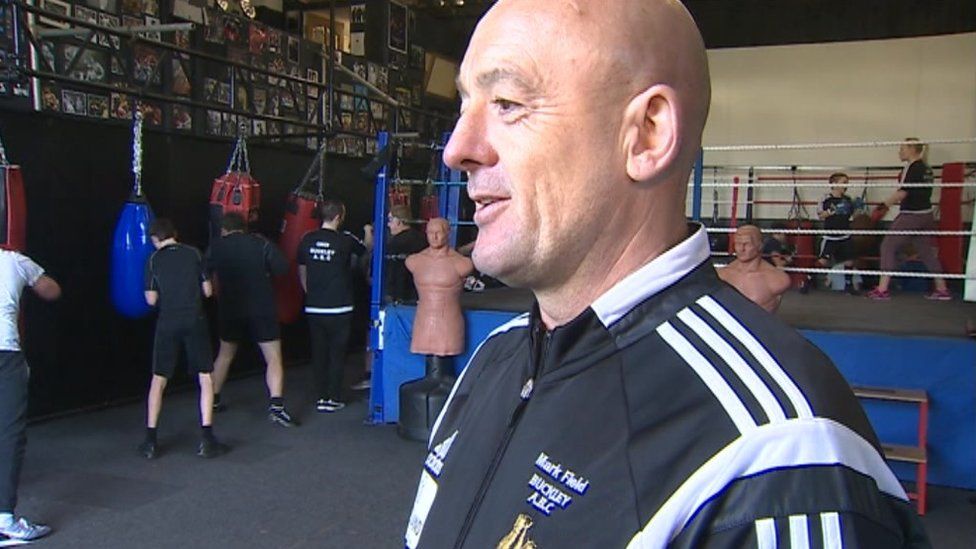 A coach at a boxing club which helps children with mental health problems gain confidence has said it would be "devastating" if it has to shut.
The lease for Buckley Boxing Club, on Drury Industrial Estate, is due to end in 2021.
Flintshire County Council has offered them an alternative building but the club says it cannot afford the substantial repairs.
Coach Mark Field said the club was like a "second home" to its members.
Mr Field, who gave up a career in the sport because of health problems and trained as a psychiatric nurse, has been helping young people gain confidence through boxing for the last 23 years.
But he is worried that the 200-member strong club, which has members as young as five, will not be able to survive if the council fails to extend its lease.
"He has ADHD and his teachers do not know how to deal with him, at one point they wanted to exclude him.
"We reward him if he behaves well. He is doing really well."
Mr Field said the council had offered them a different building to train at, but the roof needed repairing and the club did not have the estimated £45,000-£50,000 needed.
"There is nothing else out there for these children. They come to us, they feel safe, they feel part of it," he added.
"I will fight it all the way, I will not give in."
Flintshire council's chief officer for housing and assets Neal Cockerton said the council had been working to find the club a new home.
"For some time the view was that the club would take over the Bistre Youth and Community Centre, however we have recently been informed that they no longer wish to pursue this option.
"There are no current proposals by the council to close the building the club use, indeed the facility has an existing lease in place until the end of September 2021.
"We will continue to work with Buckley Boxing Club to offer whatever assistance we can."
Related Internet Links
The BBC is not responsible for the content of external sites.