Walkers amazed by Jesus on Twmbarlwm summit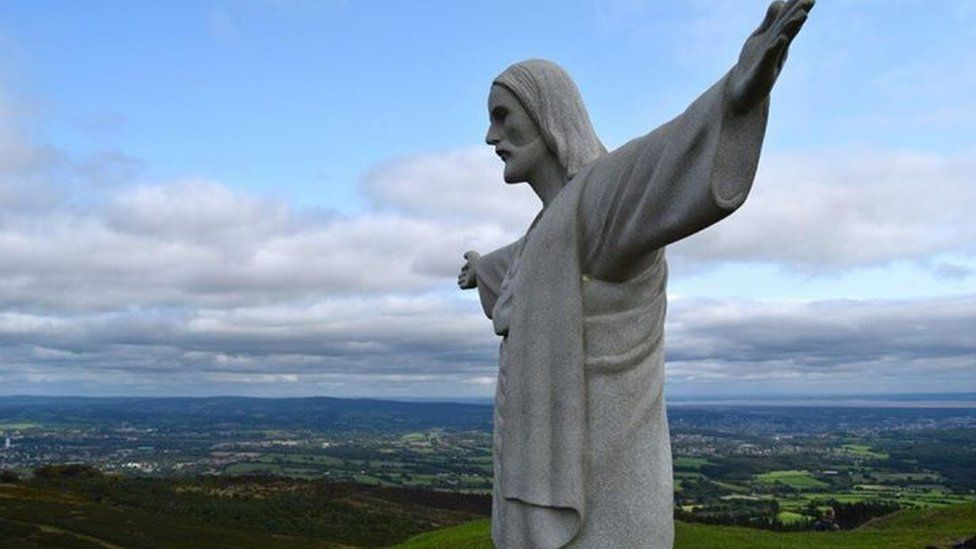 Walkers ascending a mountain in Caerphilly county might have thought they were suffering from exhaustion when confronted by a vision of Jesus.
The 8ft (2m 43cm) high fibreglass statue caused quite a stir when it appeared on Twmbarlwm's summit on Monday, after being carried over stiles and fences by endurance runners.
Jesus's visit was more fleeting though.
He was taken down again the same day in case he blew away.
"It looked like it was blessing the Valleys," said Steve Bancroft, one of the men who carried the 40kg (88lbs) statue up to the top.
While it may look like it belongs in Rio, this statue was from a storage unit in Cwmbran, and was carried to the top of the mountain by two endurance runners and their children.
Mr Bancroft, 56, and his friend, Mark Taylor, 49, challenged themselves to hoist the prop over stiles and fences and were helped by their sons Tyler, 12, Lucas, 10, and Marcus, 12.
The party took more than an hour to reach the peak, allowing for plenty of stops along the way.
"The thought of carrying it all the way to the top was a challenge in itself," said Mr Bancroft, who uses props for themed events.
"We drew quite a crowd. People were taking it in turns having their photo taken."
But while walkers were amazed by the spectacle, the pair then had to take it down again in case it blew away.
"It was quite a blustery day, we did wonder if it was going to get blown over when we got to the top, but it was quite heavy," he added.
"It just looked so right, it looked as if it was meant to be there."
In comparison, Christ the Redeemer statue in Rio measures 38m (124ft) by 28m (91.8ft), including the pedestal and weighs 1,145 tons.
The friends are already looking for their next challenge; to lift a full-sized roulette table on to the top of Pen-y-Fan in the Brecon Beacons - and have asked the National Trust for permission, Mr Bancroft said.