Matthew Myerscough and Mike Murray climb 190 Welsh peaks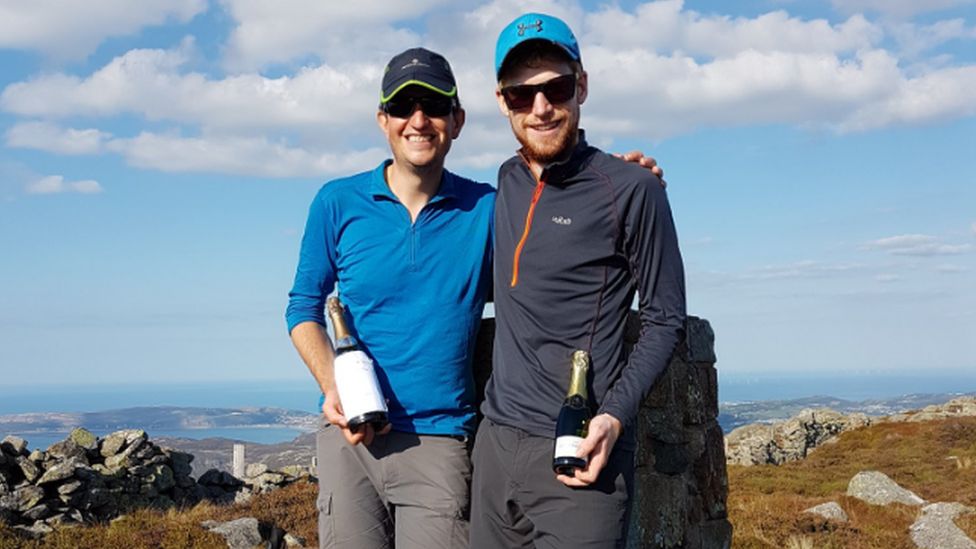 Two men have climbed 190 peaks across Wales in 33 days to raise money for the rescue teams which saved one of them from an avalanche.
Matthew Myerscough and Mike Murray climbed peaks more than 2,000ft (610m) high, covering 550 miles between Swansea and Conwy.
The duo said they wanted to "give something back" to the rescuers who saved Mr Myerscough on Snowdon.
In December 2014, 32-year-old Matthew Myerscough and his partner, Alison Zander, were caught in an avalanche, sweeping them 1,000ft (300m) down Wales' highest mountain and burying them in 4ft (1.2m) of snow.
They were rescued by members of the Llanberis and Aberglasyn mountain rescue teams, before being flown by air ambulance to Ysbyty Gwynedd in Bangor.
Mr Myerscough, a civil engineer from Cardiff, said walking past the scene of the accident was "personally tough" but he was relieved to reach the summit.
The pair, who met while studying at Durham University, set off from Swansea observatory on 29 July, climbing their first mountain, Garreg Lwyd in the west Brecon Beacons, on the first day.
Since then, they climbed 189 further mountains, ascending a total 150,000ft (45,700m) - about five times the height of Mount Everest from sea level - walking every step of the way.
They battled injury, poor weather, and the wilderness to reach the final summit at Tal y Fan in the Carneddau mountains - 33 days after they started.
Mr Murray, 32, from London, said: "We didn't know quite how wild some of the areas of mid Wales were and, sometimes, you would walk for days without seeing anyone.
"About two or three days from the end I got some severe knee pain so was worried we would not reach the end at the time."
Mr Myerscough said: "People were willing to go above and beyond when we explained our cause.
"We got to the final summit and someone we'd never met had left a bottle of champagne for us - we were both pretty thirsty."
Despite becoming only the second pair on record to complete the challenge, the first being in 35 days in 1993, there is no thought of a long rest.
They have got a few weeks off before undertaking a "small expedition" to the Indian Himalayas to attempt a climb of a 19,600ft (6,000m) peak.
Related Internet Links
The BBC is not responsible for the content of external sites.