Fracking investments by council pension funds 'unlawful'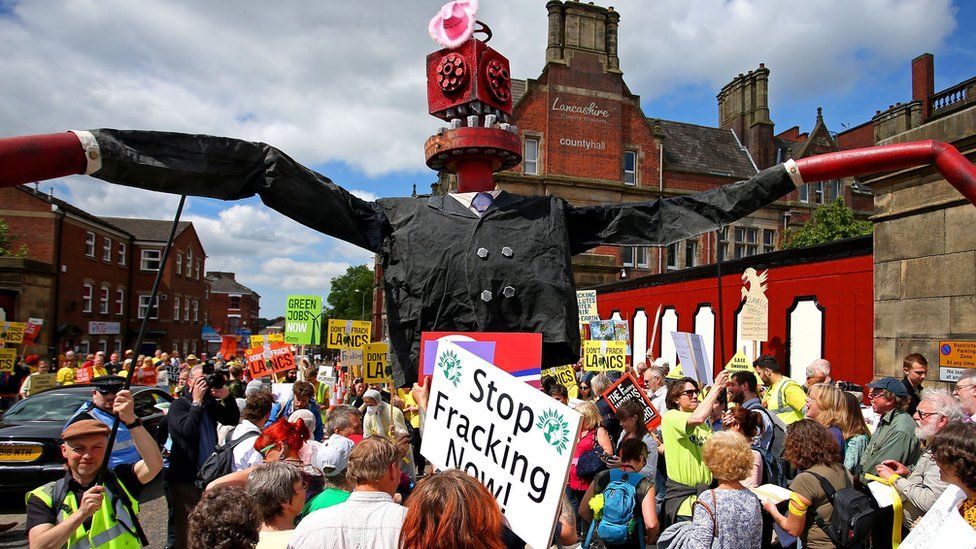 Welsh councils could be acting unlawfully by continuing to invest in companies involved in fracking, a report has claimed.
More than £600m was provided by council pension funds to firms with fracking operations overseas in 2016-17.
Campaigners argued the situation appeared "to fly in the face of the Wellbeing of Future Generations Act".
Council leaders said "great consideration" was given to making responsible investments.
In October it is set to receive control over the consenting process from Westminster.
"At exactly the same time as the Welsh Government is proposing to effectively kill off any prospects of fracking in Wales, the news that Welsh local authority pension funds are investing money in companies who continue to frack in other countries around the world is shocking," said Friends of the Earth Cymru spokesman Bleddyn Lake.
"Welsh councils won't be faced with fracking applications in their areas when the effective ban on fracking comes into Wales, so they shouldn't be profiting from fracking in other people's backyards.
"We need to see a clear commitment from them to remove all investments, direct or indirect, from fossil fuel companies."
The charity's report, worked on jointly with Platform and 350.org, suggests Welsh pension funds are supporting companies which are fracking in Argentina, USA, Canada, Australia, China and Oman.
They claim the controversial technique - designed to recover gas and oil from shale rock - is simply distracting energy firms and governments from investing in renewable sources of energy, and encouraging continued reliance on fossil fuels.
But supporters - including the UK government - argue it has the potential to provide the UK with greater energy security, jobs and growth.
You might be interested in these stories:
Wales's Future Generations Commissioner has previously called on Welsh councils to demonstrate how mitigating the risk of climate change is being incorporated into their pension funds' investment strategy.
Speaking in March, after it was revealed £1bn of pension fund investment in Wales was being spent on fossil fuel companies, Sophie Howe said: "Under the Well-being of Future Generations Act public bodies need to demonstrate how they are thinking about the social, economic, environmental and cultural well-being of Wales for now and for future generations."
"In line with the Paris Agreement, the Environment (Wales) Act and the Well-being of Future Generations Act, pension funds should be demonstrating how they are considering climate risk in their investment decisions. I want to know how they have done this and what action has been taken; in particular, has any formal advice been sought and a climate risk investment strategy been developed and implemented?"
The Welsh Local Government Association (WLGA) said that all Welsh funds were members of the Local Authority Pension Fund Forum (LAPFF) which considers and advises on ethical and climate-related investment issues.
"The WLGA encourages the development of ethical investment principles," said a spokesman.
"The pooling of the eight funds in Wales offers an opportunity to share good practice under the Welsh pension partnership joint committee in relation to responsible investment including fossil fuels."
"This should complement the primary fiduciary duty of each fund which is to invest for the benefit of over 300,000 members of the local government pension scheme in Wales."
Related Internet Links
The BBC is not responsible for the content of external sites.