Cardiff drivers fined £11m by council in four years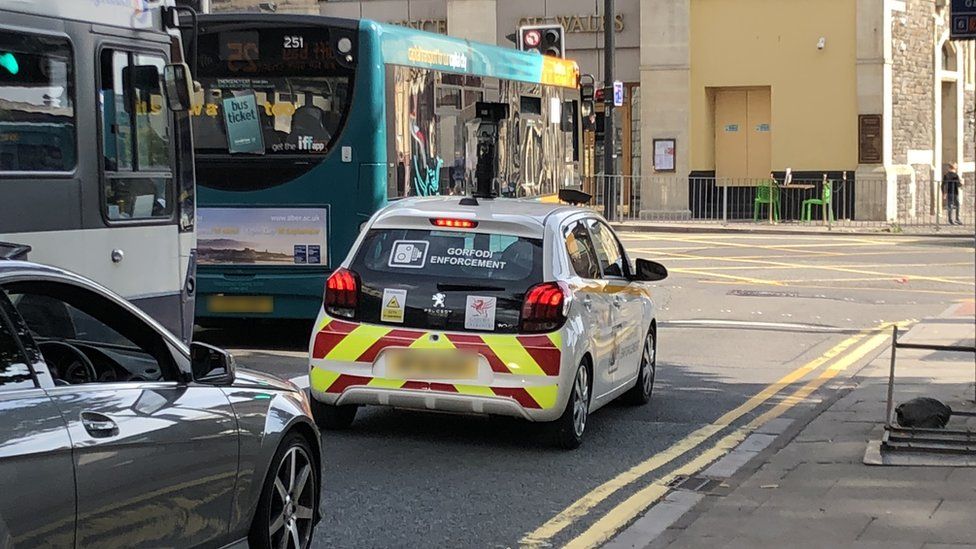 Drivers have been fined £11m for speeding, stopping in yellow boxes and driving in bus lanes in Cardiff in the last four years, new figures show.
Cardiff council made £4m from "moving traffic offences" in 2017-18, the highest figure on record.
The RAC called for better signs to warn drivers and accused the authority of increasing enforcement to make up for a shortfall in income from parking fines.
The council said drivers could appeal any ticket.
Robert Blud, from Newport, said his wife was issued with a ticket when she "clipped" the white line of a bus lane while driving through the capital.
"They should give a little bit more leeway - she only clipped it by a metre," he said, "but you have got to have rules. You can't go blocking bus lanes - they keep the city moving."
According to the council's own figures, last year it issued 144,578 tickets to drivers for driving in bus lanes, stopping in yellow boxes and making illegal wrong turns - 12,604 appealed, of which 6,985 were successful.
The fines generated £3.9m in revenue, almost five times the amount (£848,000) made in 2014-15, when records began.
But last year the authority only made £2m from parking fines, its lowest figure in five years.
The highest amount of tickets in 2017-18 were issued for offences in Kingsway, with 17,163 fines handed out, and by the speed cameras at Custom House Street (15,982).
Meanwhile, the junction of Westgate Street and Wood Street - where only buses, taxis and bicycles can turn left - saw the council issue 9,751 tickets.
Cardiff is one of very few UK cities to penalise people for being stationary in a yellow box.
The council's highest earner for this offence was the junction between Caerphilly Road and Rhydhelig Avenue with 2,450 tickets issued.
Alan and Caroline Morgan, from Rhondda Cynon Taff, said they and many members of their family had been caught out by the cameras.
"It is not very clear at all. The next thing you know you have been sent a £70 fine," said Mrs Morgan.
"A friend of mine who comes to Cardiff a lot said they had changed it so much that she doesn't drive anymore - she just catches the train now."
Gareth Evans, from Merthyr Tydfil, who successfully appealed his fine, said: "I don't think it is clear enough where you can and cannot go."
Nicholas Lyes, head of roads policy for the RAC, said the council was using the fines to make up for a fall in income from parking.
"Clear, transparent signage is absolutely essential - and in instances where an abnormally high number of penalties are issued at one particular junction or stretch of bus lane, there needs to be mechanisms in place which alerts the council to review signage and road layout," he said.
"Councils should also consider warning notices for first time offenders - those who make a mistake once are unlikely to do it again when they realise they will be hit in the pocket next time."
Cardiff council said its all its signage complied with legislation, adding that motorists could appeal any ticket.
"The income funds the operational cost of parking and enforcement and any surplus or deficit is transferred to a parking reserve account," a council spokesman said.
The council said its parking reserve account helped to pay for a number of road safety initiatives and highway improvements, including disabled parking bays, 20mph speed limit and school safety zones.