Essay mills: 'One in seven' paying for university essays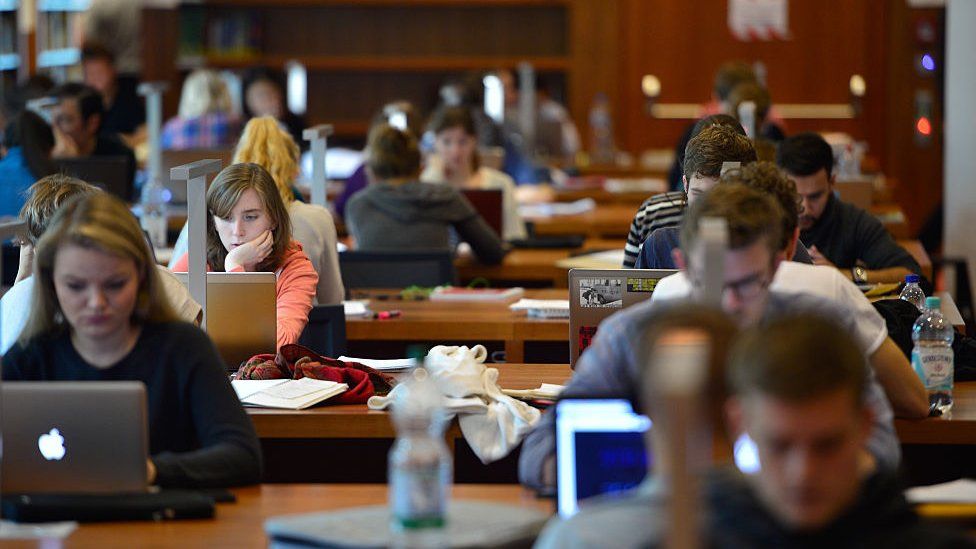 More students than ever are paying someone else to write assignments for them via "essay mills", a Swansea University study has revealed.
The survey of more than 50,000 students, found 15.7% admitted to cheating since 2014 - up from an average of 3.5% over the last 40 years.
It means about one in seven recent graduates have paid someone else to do their work for them - which could represent 31 million people worldwide.
Essay mills are legal in the UK.
However, some countries have banned them.
What is contract cheating?
Passing off a custom-made essay as your own is a form of plagiarism known as contract cheating
It involves a student ordering an essay, usually through a website, for a fee
But it could also be friends or family members writing an essay on a student's behalf
Companies offering these sort of services are known as essay mills
The fee will usually depend on the essay subject, length and deadline
It is difficult for markers to detect when an essay bought from a website is submitted
The study, undertaken by Prof Phil Newton, looked at information dating back 40 years and covered 54,514 participants from around the world.
It showed the amount of students admitting to contract cheating, when students pass off a custom-made essay as their own, has increased over time.
But Prof Newton, director of learning and teaching at Swansea Medical School, suggested the number could be much higher, as students who have paid for essays to be written are far less likely to volunteer to take part in surveys on cheating.
"These findings underscore the need for legislation to tackle essay mills, alongside improvements in the way students are assessed and awareness-raising of the fundamentals of academic integrity," he said.
"We need to utilise assessment methods that promote learning and at the same time reduce the likelihood that contract cheating can happen."
Essay mills are legal in the UK, although there is currently a petition to change UK law as current legislation has been found to be ineffective at tackling the problem.
They are banned in the United States and New Zealand, while other countries are actively developing legislation to tackle them.
Despite not being illegal, the Quality Assurance Agency (QAA), which monitors standards in higher education in the UK, said submitting an essay written by someone else is a form of plagiarism, and pupils could face expulsion from university if caught.
Earlier research from Prof Newton showed that academic integrity is not a topic that is routinely covered in teacher training programmes for staff and that students have a poor understanding of the consequences of engaging in contract cheating.
The National Union of Students Wales has been asked to comment.