Dambusters heroes' pictures brought to life in Wales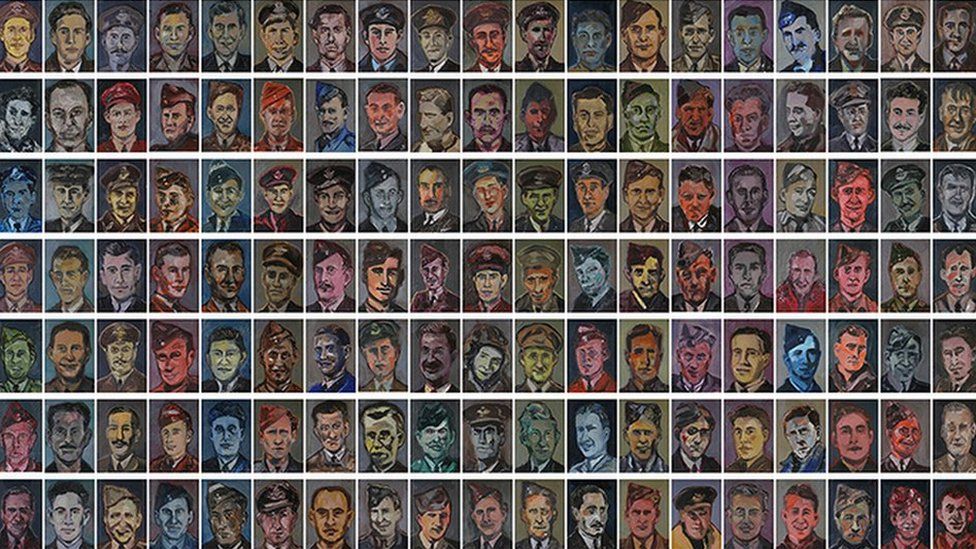 The Welsh artist who painted portraits of the 133 airmen involved in the Dambuster raids has described families' reaction to his work as "moving".
Dan Llywelyn Hall's idea was to "reunite" the men in time for May's 75th anniversary of the war-time raid which saw RAF bombers break two large dams in Germany using "bouncing" bombs.
Funds have just been secured to keep the collection together.
"It would have been terrible to split them up," he said.
Among the portraits is that of front gunner Sgt Gordon Yeo, aged 21, from Barry, Vale of Glamorgan, who never returned from the mission.
He and 52 other airmen died and eight of the planes were lost during the secret mission.
His second cousin, Belinda Brown, a Cardiff teaching assistant, described seeing the paintings together as an "emotional moment".
Being "bought for the nation" meant they would remain "together forever", she said.
"I'm delighted that they are being kept together. It was a wonderful idea to paint all the portraits."
Families of the crews began discussions about trying to keep the collection as a whole after they met, many for the first time, to see the portraits unveiled at the International Bomber Command Centre in Lincoln in May.
Mr Hall, originally from Barry but now based in London, said: "It became something far bigger than I imagined."
A special dinner is being held at the RAF Club at Mayfair, London, on Friday 7 September to raise funds for the collection's upkeep in the years to come after it is gifted to a gallery or museum.