Geraint Thomas 'shocked' after velodrome renamed in his honour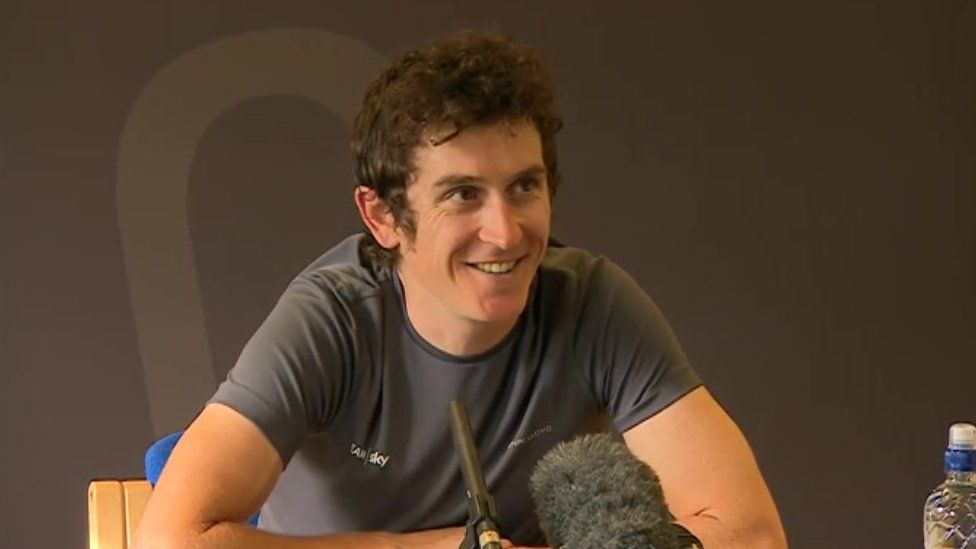 Tour de France champion Geraint Thomas said he was "shocked" by the "massive honour" of having Wales' National Velodrome named after him.
He unveiled the Geraint Thomas National Velodrome of Wales in Newport on Sunday after stage one of the Tour of Britain finished in the city.
Thomas, 32, used to visit the cycling centre as a child and trained there for the 2012 Olympics.
Thousands of fans lined Welsh streets to watch Thomas race earlier.
In July, he became the third Briton - and first Welshman - to win the world's most famous road race.
Thomas said: "It's strange, you dream of racing and going across the line with [your] arms in the air but never what comes after.
"I remember coming here in 2004 and watching the guys preparing for the Olympics.
"If you told me then I'd win the Tour de France and this place would be named after me then I would have laughed.
"I haven't rubbed it in yet to [Chris Froome] that I've got a velodrome named after me and he hasn't. Maybe it's a bit too soon."
The velodrome opened in 2003 and is the home of governing body Welsh Cycling.
The official renaming tied in with the opening stage of the Tour of Britain, which saw Thomas compete in Wales for the first time since winning the Tour de France.
Thomas said: "It has been a great day. The support on the whole route from start to finish was incredible.
"Some of the other riders were coming up to me and saying: 'Wow, this is a really nice place'. I replied: 'Yeah, it's Wales'."
The double Olympic gold medal winner added he hoped the velodrome would get more children into cycling, but "rugby and football teams will still take the limelight".
Thomas says he hopes his success, combined with the renaming of the velodrome, will inspire youngsters into cycling, and plenty of youngsters turned out to see him on Sunday.
Among those was 15-year-old Ethan Hands of Cwmbran who rides for the Newport Velo club.
"It's great that they've named the velodrome after Geraint," he said.
"From now on, every time I come here I will see him and remember what he achieved. That will inspire me."
Ten-year-old Megan Dafydd is part of the Maindy Flyers club that set Thomas on his path to Olympic and Tour de France success.
"I was really excited to see Geraint, we're so proud of him at Maindy Flyers," she said.
"It definitely makes me want to cycle even more and one day, I hope to be a champion like him."
Dylan Donovan, 10, rides for Whitchurch Cycling Club based in the area of Cardiff in which Thomas grew up.
"It was amazing to see Geraint in person because I usually only see him on YouTube," said Dylan.
"Being from Whitchurch, his success inspires me to keep racing and progress in cycling."
Leader of Newport council, Debbie Wilcox, praised Thomas's humility and professionalism and said renaming the National Velodrome of Wales was a "fitting tribute" to his achievements on the track and road.
"He's a fantastic ambassador for our country and a role model for all these young people," she said.