Wylfa B nuclear site clearance approved despite opposition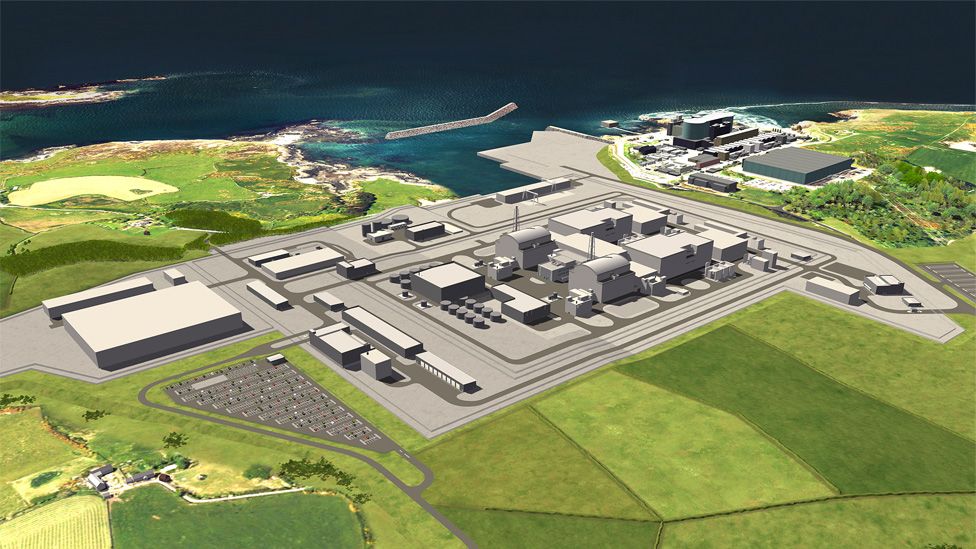 Plans to clear a site to build a new £12bn nuclear power station have been approved despite strong opposition.
Horizon Nuclear Power will now start the 15-month process to clear an area measuring just over a square mile (740 acres) to build the new Wylfa Newydd B reactor.
But Greenpeace has taken legal action arguing work should not start until Wylfa B is given the official go-ahead.
Anglesey council unanimously approved the plans in a meeting on Wednesday.
Horizon does not have the Development Consent Order (DCO) for the nuclear plant, a process that could take at least 18 months for the planning inspectorate to decide upon.
But planning officials said giving it prior permission would speed up the construction process.
Ahead of the council's planning meeting, Greenpeace solicitors launched a legal challenge against the officials' recommendation.
The campaigners said the council's report had "mistakenly relied upon the government's Nuclear Energy National Policy Statement as a key justification for their support for Horizon's plan to clear the site".
Greenpeace said there were "serious concerns about the viability and financing of the project" on the north coast of Anglesey, near Cemaes.
According to the report that was presented to the planning committee in Llangefni, the developers have promised to restore the 740-acre (299 hectare) site to its current condition if plans for a nuclear plant fall through.
People Against Wylfa B protest group and The North Anglesey Partnership, consisting of a number of local community councils, also raised concerns about "many unanswered questions".
Llanbadrig Community Council's submission, while backing the nuclear plant in principle, said: "There is still much doubt about whether this project will proceed, particularly in the prevailing environment of uncertainty exacerbated by the era of Trump and Brexit."
But planning officers recommended councillors should give the green light as there is a "principle need for the development" at this time which would "facilitate early delivery of a new nuclear power station".
"The urgency - which is of identified national importance - is considered to sufficiently outweigh concerns including that the site preparation application is 'premature' vis a vis the DCO process," one officer added.
"On balance it is considered that the development, subject to suitable mitigation measures, will make a positive contribution in helping to develop the economy without causing unacceptable impacts to the environment or the local community."