Light aircraft crashes into sea at Pembrokeshire beach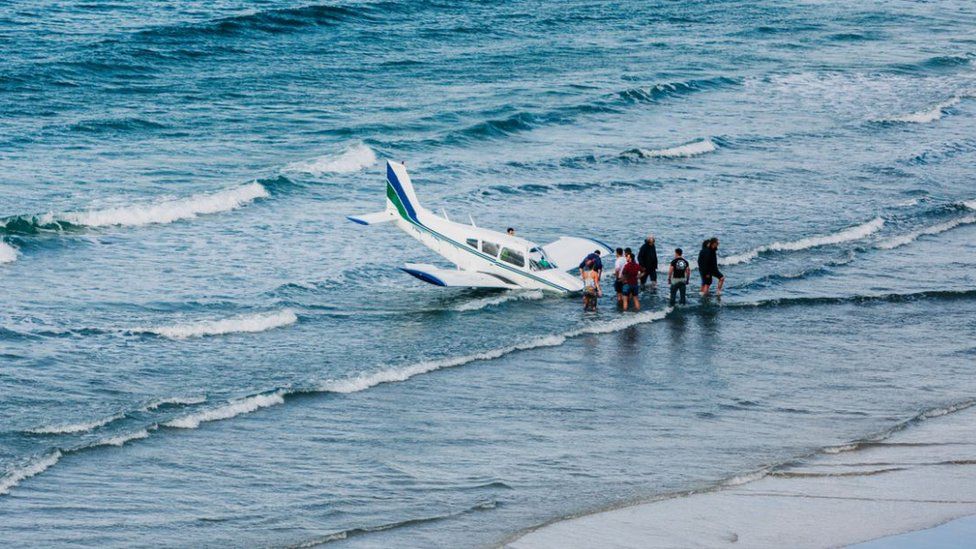 A pilot has been taken to hospital after his light aircraft crashed into the sea at a beach in Pembrokeshire.
It ended up nose-first in the water at Whitesands Bay in St Davids following the incident at about 13:30 BST.
The pilot was pulled from the aircraft by lifeguards and taken to Withybush Hospital, Haverfordwest with a head injury and suffering from shock.
The Piper Cherokee had taken off about 20 minutes earlier from Haverfordwest Airport, which is about 18 miles away.
It had travelled there on Tuesday morning from Bedfordshire and eyewitnesses said they were told a loss of power caused the crash.
The Maritime and Coastguard Agency is in charge of the rescue operation and a digger was drafted in to pull the aircraft away.
RNLI lifeguard Luke Evans, 23, and some of his other colleagues were first on the scene.
"The pilot was badly shaken and had some facial and head injuries, but was still conscious and able to communicate," he said.
"We assessed him and then were able to help him up the beach back to the lifeguard unit where we gave him oxygen and waited for the ambulance to arrive."
Eyewitness Paul Rudge said the plane came over the headland and added: "I was absolutely convinced he was going to put it down on the beach, but he did a left and just dropped it straight into the water.
"He did say when we got to him that he had lost power, but the engine was running."
Sophie Williams, a cafe worker at Whitesands Beach, said: "He is very lucky to be alive. If he had gone a couple of hundred yards further he would have smashed into the cliffs.
"At any other time of this summer the beach would have been packed - it's lucky the school holidays are over and there were not more people in the water.
"The first people who got to him were two walkers. He told them he had suffered engine failure."
Ian Price, owner of the St Davids B&B, said: "I arrived at the beach after the crash happened and there was a lot of emergency services there - coastguard, police, ambulance.
"I don't know if it was just one pilot in the plane but someone was being carried out by the lifeboat.
"It's lucky it wasn't a week ago when the beach was much busier over school holidays. Today it's been quite windy so there weren't as many people around."