Môn Search and Rescue: Wales' first lowland search team 'ready'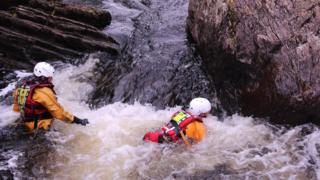 Wales' first lowland search team is officially operational after three years of training.
The team of about 30 volunteers on Anglesey includes an astro-physicist, a psychologist, and ex-service personnel.
Môn Search and Rescue (Sar) was established in 2015, but it has taken until now to achieve the expertise required for the diverse search roles.
They are now on-call around the clock to respond to requests from the police and coastguard for assistance.
"We've basically taken a bunch of people who had no or little experience and created a usable team that will be an asset," said Môn Sar team leader, Andy Camwell.
"Our catchline has been that we operate from hill to high water - though some of those hills we could be asked to search are higher than some in England."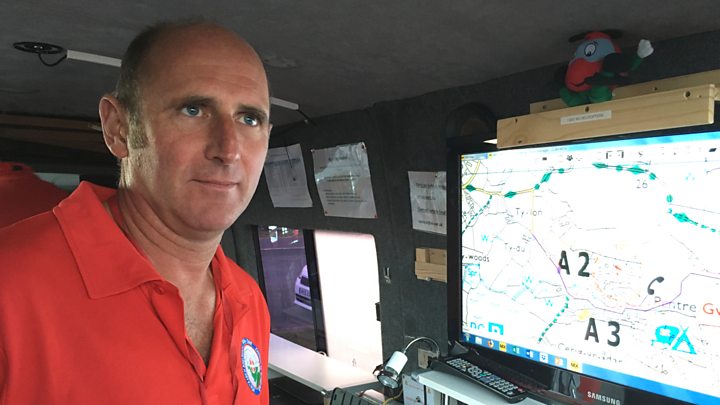 The team will work across Anglesey, from beaches to inland waterways, hillsides and forestry.
One of the main roles will to be helping North Wales Police with searches for missing vulnerable people, which the team thinks will be about 80% of its work.
Unlike mountain rescue teams across north Wales where they often know where a casualty is - Môn Sar's role has an emphasis on searching.
"The team basically trains for searching, trains for medical emergencies, trains for navigational purposes, to be able to go to help vulnerable, missing and lost people," explained the team leader, himself a former reserve officer with the RAF.
"We are unique. We have to be multi-faceted in our communications, working with the coastguard, North Wales Police, mountain rescue and water rescue teams - we are there to help."
The team will be operating under the careful watch of Ogwen Valley Mountain Rescue during the first few months, as the unit continues to evolve and expand.
"The team have been working hard for several months to reach operational status, and it is pleasing to see that they have been successful at this important stage," said temporary North Wales Police Chief Constable Gareth Pritchard.
The force has donated a decommissioned police vehicle to the search unit to use for its incident control operations.
While that is currently kept at Llangefni police station, Môn Sar is on the hunt for a permanent base for equipment, training and an operations centre.
"We need the public's help with things like that and funding," added the unit's chair.
"We've got another 12 volunteers who are hoping to join - but that all comes at a cost. We have to run this charity as a business, because it costs in the region of £100 a week just to keep running.
"With every volunteer there is a cost in clothing and training - we've managed to reduce it to about £850 each - but we've still got to find those funds to run and train - 24/7 - 365 days of the year."