Child arrests in Wales fall by nearly 10,000 since 2010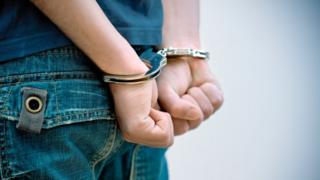 Child arrests have reduced by almost 10,000 between 2010 and 2017 in Wales, official figures have shown.
The Howard League for Penal Reform research showed while 13,889 children were arrested in 2010, this dropped to 3,948 last year, a fall of 72%.
The biggest drop, of 85% from 2,307 to 341, was in the Dyfed-Powys force area, followed by 70% in both Gwent and North Wales and 68% in the South Wales area.
The charity said efforts were made to keep children out of the system.
Across Wales and England, the total number of child arrests has been reduced by 68% - from almost 250,000 in 2010 to 79,012 last year.
The Howard League programme, which began in 2010, involves working with police to avoid criminalisation of children particularly in residential care, those who are exploited by gangs and those from black, Asian and minority ethnic backgrounds.
'Brighter future'
It said research has shown the more contact a child has with the system, the more entrenched they are likely to become - which increases offending rates.
The number of children in prison in Wales and England was reduced by more than 60% between 2010 and 2017.
"It is a phenomenal achievement by the police and the Howard League," said Frances Crook, chief executive of the charity.
"It means that tens of thousands of children will have a brighter future without their life chances being blighted by unnecessary police contact and criminal records.
"We have come a long way, but there is still more work to do."
The charity also praised South Wales Police's "impressive" 27 per cent reduction in child arrests between 2016 and 2017.
It said the force is working with Wales' Children's Commissioner "to embed a children's rights approach to their contact with children".
South Wales Police said it has "nurtured officers and raised their awareness of less intrusive methods of investigation than arrest".