Vale of Glamorgan: Parking charge plans spark anger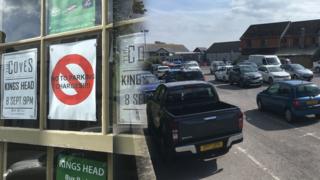 Plans to introduce new parking charges across a south Wales county could ruin local economies and morale, a campaigner has warned.
Town centres, coastal paths and two country parks are included in the plans by the Vale of Glamorgan council.
Wendy Rogers, who works in Llantwit Major, said proposed charges were a "tax to work."
The council said charges would cover maintenance costs, and has put the proposals out to public consultation.
The proposed charges come as the council needs to find saving £17m over three years.
The plans include introducing on-street parking charges in Barry, Penarth, Cowbridge and Llantwit Major.
'Killing a village'
Ms Rogers, who works for a development firm in Llantwit Major, said: "I work in the town, and park in the public car park behind my office every day, if I have to pay to park there, I've worked out that I wouldn't start seeing my wages until lunchtime on a Monday.
"And that doesn't even begin to mention the impact it will have on the town's economy or community morale; we've just come out of a recession and if people are put off from coming here to shop or visit the beach, it will ruin the local economy.
"It'll be like killing a village."
Jacqui Jenkins, who lives in Cowbridge and owns a hair salon, says the potential charges would have a considerable impact on her business.
"One of the biggest issues for me as a business owner is staff retention, and if my staff have to pay every day to park their cars when they come into work, it'll put them off commuting and that's one less reason for them to work here.
"It would put pressure on me to raise their wages to keep them, which will then be reflected in the prices my customers have to pay."
However Jayne Nicholas, from I.G Nicholas Butchers in Cowbridge, has said the potential charges could be a good thing for her business.
"A lot of people use the car parks here, and if the charges came in, it could put people off using them which would free up spaces for our customers to use instead."
Public consultation underway
A Vale of Glamorgan spokesman said: "The proposals outlined in the Draft Parking Strategy are for parking in town centres to remain free for an initial period after which charges will apply.
"Although this would be a new strategy in the Vale, parking charges are commonplace in town centres and coastal locations across the country.
The public consultation runs until Friday 28 September, with drop-in sessions taking place in Barry, Penarth, Llantwit Major, and Cowbridge as well as Cosmeston Country Park, Porthkerry Country Park and Southerndown.