Man died from punch in car park next to Maesteg hospital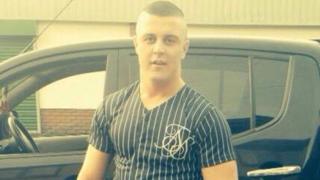 An off-duty doorman killed a man with a single punch in a car park, a court heard.
Gavin Rees, 24, died three weeks after Jeffrey Shepherd hit him "out of the blue" in the car park next to Maesteg Community Hospital in August 2017.
Cardiff Crown Court heard the pair had met to discuss payment because Mr Rees had damaged Mr Shepherd's van two days earlier.
Mr Shepherd, 45, of Llanharry, Bridgend, denies manslaughter.
Two days before the car park incident Mr Shepherd had blocked traffic by parking his van in the middle of Church Street, Caerau, Maesteg, prompting Mr Rees to deliberately hit the van in a fit of "road rage", the jury heard.
The men arranged on the telephone that evening to meet in the car park, which is owned by Bridgend council.
Prosecutor Michael Jones said the pair were discussing the damage when Mr Rees turned to wave to a friend.
Mr Jones said Mr Shepherd punched the victim to the head without warning, and left him unconscious on the floor before driving off.
He said: "The punch came out of the blue. It was an assault that was completely unjust and unlawful.
"Witnesses saw Mr Rees' legs go to jelly before he collapsed to the floor."
He said Mr Rees could not be revived at the scene and it was believed he suffered a heart attack as well as a serious brain injury.
Mr Rees, a scaffolding company director with a young son, was operated on at the University Hospital of Wales, Cardiff, but died three weeks later.
The trial continues.