Naomi Rees: Missing girl 'may be in West Midlands'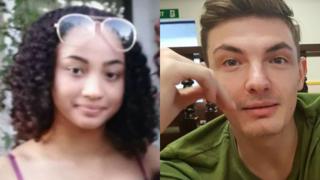 A girl missing from south Wales for over three weeks may be in the West Midlands or Staffordshire, police have said.
Naomi Rees, who was 16 on Monday, went missing from her home in Rhydyfelin, Pontypridd, on 15 August.
West Midlands Police said she may be with a Staffordshire man, Tomas Baker, 20, from Tamworth.
Her mother Grace Rees made another appeal on Naomi's birthday for her to contact the family.
She said: "Naomi, we never imagined we would be spending your 16th birthday like this - not knowing where you are or if you are safe or not.
"We know that you do care and can only assume that you are not aware of our messages or that you are not being given the opportunity to make contact.
"Not knowing where you are and how you are faring is killing us. We won't rest until the day that you are home and love you more than words can express.
"Please Naomi, get in touch."
Police have launched a nationwide search, and are treating her disappearance as child abduction.
Officers have raised the possibility of her being in the Midlands, given that Mr Baker had lived locally.
"She may be in the West Midlands or Staffordshire," West Midlands Police said in a statement.
Tomas Baker's mother also made a direct appeal to her son, saying: "Your sister 'boo' and me are worried sick.
"Please do the right thing and if you are with anybody you should not be with, then please take them to the nearest police station or being the good man you are Tom - make them do the right thing in contacting who they need to contact.
"Tom we all love you and miss you deeply. Please, please think and do the right thing."