Police present at boat 'sex party' rape, trial hears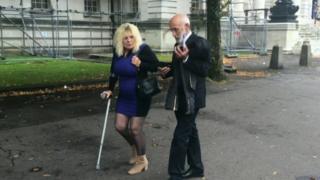 A couple accused of raping and sexually abusing children in the 1980s and 1990s had sex parties on a boat which police officers attended, a court has heard.
Peter Griffiths, 65, and Avril Griffiths, 61, from Barry, face charges of rape, indecent assault and taking indecent photographs of a child.
Cardiff Crown Court heard police officers were present when a young girl was raped onboard while others watched.
Mr Griffiths denies 14 charges and Mrs Griffiths denies 10.
Jurors watched a recording of a police interview with one of three complainants who said she was raped by Mr Griffiths and another man who arrived at the party on a "pilot boat".
'Bragging'
The complainant, who was in her early teens at the time, said the man, whom she called a seaman, was at the party to celebrate his retirement, along with other seamen and "young police officer friends" of Peter Griffiths.
She said: "I know I got raped by at least two men that night, it might be more. Peter and this other man, he was the pilot boat man, the one who drove that; the guy who was leaving, it was him".
The woman, who cannot be named, said she knew two of the men on the boat were police officers because she said they were "always bragging about it".
The court heard the officers were friends of Peter Griffiths, who the complainant said was a special constable at the time.
She said in interview the officers had said "no one is going to believe you", if she told anyone about the abuse.
The complainant said she had got onto the boat at Barry Docks and said other girls would also be taken onto the boat. She said abuse "happened on the boat quite a bit".
She said she was forced to drink a pint of vodka and raped twice that night and was crying, but was threatened that she would be left "in the water" by her abusers.
'Never complained'
She recalled another instance when Mr Griffiths was "in his uniform" with other men in their uniform but said no abuse took place then.
The woman said she had reported allegations to the police previously.
The court also heard the complainant was dressed up in short skirts and heels and taken in a van to "dogging" spots - car parks at Castell Coch, Cardiff, and Porthkerry Park in Barry - where she would be raped by Mr Griffiths and other men.
She said: "I never ever complained because I thought it was my fault."
The trial continues.