Why are our professional kitchens still male dominated?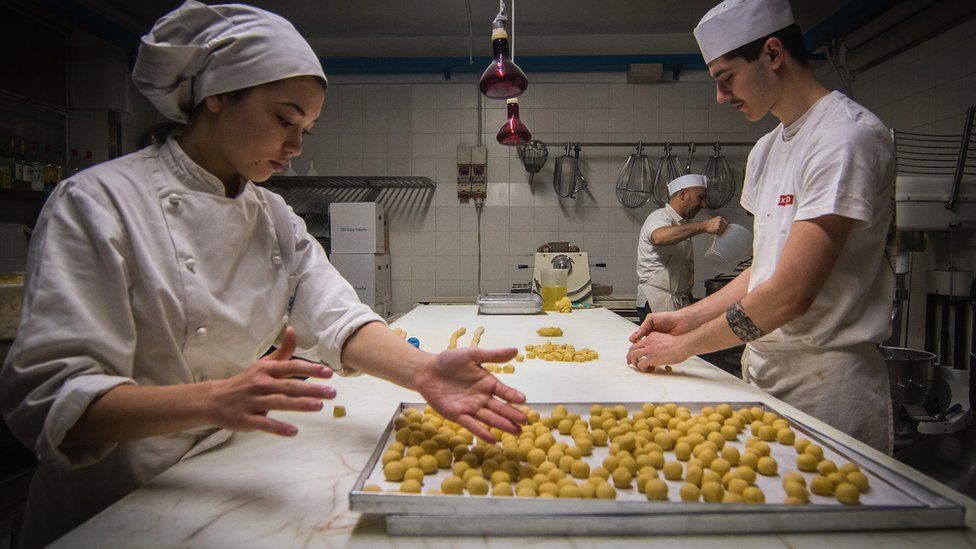 In the last 30 years, more women have become employed and self-employed in the cooking sector than ever before.
But according to the Office of National Statistics, only 17% of chef positions in the UK are held by women.
We spoke to four of Britain's top food chefs and writers to find out their experience as women in the food business.
"Historically, women have always done the cooking at home but that has been seen as domestic and not a 'real' job," she said.
She says many women like herself work in food journalism. So why are there still so few female chefs in the UK?
"Female chefs have brought in a new energy to professional kitchens, but investors don't seem as interested in investing in women as they do men. It's a finance thing," she said.
This gender gap is because the industry still recognises more male chefs, says head chef Romy Gill.
Romy succeeded in becoming the first female Indian head chef to open and run her own restaurant in the UK in 2013.
She said: "The change of women coming into professional kitchens is amazing.
"Women are doing such amazing stuff - yet we're still fighting to get recognised in the industry. It's still all about male chefs."
The MBE head chef says she could only work the long hours because her husband and two daughters were supportive.
More Asian female chefs like Ravinder Bhogal, Asma Khan are running their own restaurants now, but it is still a small number.
"It's certainly is changing and the future is looking bright.
"But running your own restaurant means long hours and sexism and racism still exists whether we like to hear it or not."
The jump from 'home cook' to the professional food industry came between the first and second World Wars, says award-winning food writer Sybil Kapoor.
"There was a loss of culinary skill in upper and middle class families, because their female cook servants had to leave and work in factories during the war."
Mid-twentieth century food writers like Florence White and Ruth Lowinsky were coming out with "avant garde ideas", according to Sybil.
"They were inventive, but also your average women - single and rebellious."
Before becoming a food writer and author herself, Sybil worked in London and New York as a chef.
When she was applying for jobs, she said that some restaurants would not consider her because she was a woman.
"I never came across any direct problems but I would ring up for a job and they'd say that the job has gone, and you would know it was because you were a woman," she said.
However, Sybil thinks that the food industry is becoming "an extremely bright area for women" with social media opening up more opportunities.
So what does the future look like for women going into food?
"More female farmers, small holders, producers, chefs and writers judged on their abilities other than anything else," says Hang Fire Southern Kitchen chef Samantha Evans.
The Cardiff chef says that she and and fellow Hang Fire chef Shauna Guinn have been "underestimated, dismissed and overlooked" in the past.
Her advice to women trying to start out in the food sector is to work hard, make the right choices for the business and play to your strengths.
"As a nation, we are slowly being awakened to be more health conscious and aware of animal welfare and much of this 'conscious raising' is being contributed by today's female food writers.
"If you want in, there is definitely a route you can take."