Shotton steelworks office on Victorian Society endangered list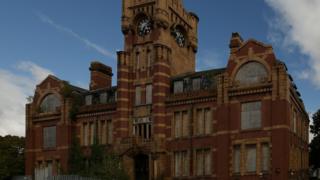 A former steelworks office which has fallen into a state of disrepair has been placed in a top 10 list of endangered UK buildings.
The Grade II-listed general office and clock tower, which used to be part of Shotton steelworks, was built in 1907 and became a landmark in Flintshire.
It is now subject to break-ins and is targeted by vandals, so the Victorian Society has put it on the list.
Director Christopher Costelloe said it needed "urgent" restoration.
"This is a fine Edwardian industrial building which should proudly showcase Shotton's industrial past," Mr Costelloe said.
"Instead it is boarded-up and unused, and every day continues to be at risk from vandalism and theft."
A landmark industrial building
The office was built when the owners of the James Summers Steelworks expanded in the late 19th Century.
Harry and James Summers and their four brothers decided to extend the family business founded by their father, John, and buy 40 acres of Dee marshland to start production of galvanised steel sheeting.
In the end, they bought 10,000 acres and the general office was built in 1907 at the site entrance, dominating the view on the banks of the River Dee.
The company was absorbed into British Steel in 1967; British Steel became Corus in 1999 and this company was taken over by Tata Steel in 2007.
In 2010 landowners, Pochin Goodman, paid £5m for 200 acres of surplus land from Tata, including the general office and four other buildings.
Pochin Goodman has been asked to comment on any redevelopment plans.
Griff Rhys Jones, president of the Victorian Society, said the general office could be transformed if given attention.
"This building is crying out for redevelopment and could make something truly wonderful for its community," he added.
Other buildings in the society's latest top 10 endangered buildings list - published each year to highlight at risk Victorian and Edwardian buildings - include the Winter Gardens in Great Yarmouth, Merseyside Centre for the Deaf in Liverpool and St Mary's Convent Church in Leeds.
The society has previously worked on saving Welsh listed buildings. As a result of their intervention, work started on converting the old Buckley's Brewery in Llanelli earlier this year.
The Grade II-listed malt house and kiln buildings, which date from the 19th Century, is in the process of being converted into 21 apartments.
It was put on the society's list last year.