Man died after 'hell of a whack' in Maesteg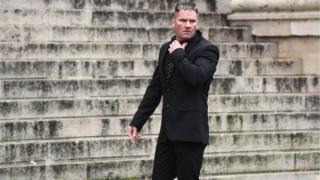 A 24-year-old man died after being punched with "a hell of a whack" in a car park, a jury was told.
Cardiff Crown Court has heard doorman Jeffrey Shepherd, 45, of Llanharry, hit Gavin Rees near Maesteg Community Hospital.
Mr Shepherd allegedly punched scaffolding company directory Mr Rees in an incident which was "completely out of order".
Mr Shepherd denies manslaughter and claims he was acting in self defence.
Giving evidence, Levi Whelan, a friend of Mr Rees, said: "Gavin turned his head to say 'ta-ra' then he turned back to face Jeff and Jeff punched him in the face.
"It was a hell of a whack.
"He could still be alive now. All this over a van and someone's died."
David Elias, defending, asked Mr Whelan why he did not call police after the punch.
Mr Whelan said: "We didn't know how serious it was.
"We thought Gavin would be alright so we didn't want the police involved."
Asked why he did not provide a police statement for two months, Mr Whelan said: "I'm not a grass but he killed my mate at the end of the day."
The jury was previously told how two days before the car park incident Mr Shepherd had blocked traffic by parking his van in the middle of Church Street, Caerau, Maesteg, prompting Mr Rees to deliberately hit the van in a fit of "road rage".
The prosecution had told the jury the men arranged to meet in the car park to discuss the damage when Mr Rees turned to wave to a friend.
Prosecutor Michael Jones said it was then that he was struck and it was believed he suffered a heart attack as well as a serious brain injury.
The trial continues.