Church in Wales explore provision for same sex couples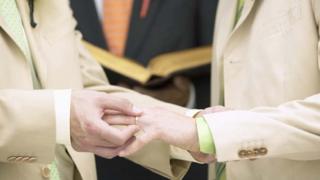 Bishops of the Church in Wales have been given the go ahead to explore formal provision for same-sex couples in church.
The governing body agreed that the lack of formal provision was "pastorally unsustainable", by 76 votes to 21.
The vote could pave the way for future legislation for gay marriage in the Church in Wales.
Archbishop of Wales, John Davies said the vote was an "important steer to the bishops in exercising pastoral care."
The private ballot on Wednesday followed a presentation to the meeting from the Primus of the Scottish Episcopal Church, Bishop Mark Strange, on the process that church went through before it decided to accept same-sex marriage.
Last year, Scottish Anglicans voted to allow gay couples to marry in church.
In Wales, a similar vote in 2016 was in favour of gay marriages taking place in church, but the results were considered too close for the change to be implemented.
Archbishop Davies said, "The bishops are united in the belief that it is pastorally unsustainable and unjust for the church to continue to make no formal provision for those in committed same-sex relationships.
"Although the outcome does not change the present doctrine or practice of the Church in Wales on marriage, I am pleased that it provides an important steer to the bishops in exercising our ministry of pastoral care and spiritual leadership."
Bishops will now undertake further discussions and return with recommendations, which could be brought back to the governing body for approval at a later date.