Kimora Zondo, 7, died after hood caught on door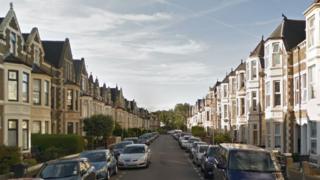 A seven-year-old girl died after being strangled when her hooded top became caught on a door handle at her Cardiff home, an inquest has heard.
Kimora Zondo was found after her mother awoke from a nap to be told by her nine-year-old son that the little girl was "pretending to be sleepy".
Assistant coroner Nadim Bashir said there was "no evidence" of how Kimora became caught on the handle.
He recorded a conclusion of accidental death at the hearing in Pontypridd.
The inquest heard that Kimora had returned home from her school in the Roath area of the city on 7 March and changed from her school uniform into a pink hoodie.
Her mother Vonnie Dube had fallen asleep and when she woke, she asked Kimora's brother where his sister was.
In a statement read out to the court Ms Dube said her son stood up and said "Kimora, mummy's awake" and walked to the heavy passage door, which he tried to push.
After finding the girl, they could get no response from her and the ambulance was called.
She died later in hospital.
An investigation into the death was launched by police, who interviewed her older brother twice about how he found his sister.
He said: "When I opened the door I found her head was hanging off the handle and took her to mum who checked her and started tickling her but there was nothing."
In the second police interview, he said: "My mum asked me to call Kimora and I found her lying there and she was hanging from her hoodie.
"I took the hoodie off and put her on the carpet where mum tickled her. "
Police tests
A post-mortem examination found that Kimora died from pressure to the neck caused by a ligature.
The police and forensic pathologists carried out a number of recreations of how the incident had been described, with a dummy the same height and weight of Kimora, and used with replicas of her hoodie.
Pathologist Dr Richard Jones told the inquest he was satisfied the mark on Kimora's neck had been caused by the hoodie, which had a hole in the top of the hood.
He added: "If you asked the question 'Is it possible for a child wearing a hooded top to actually be suspended from that handle in the manner which is suggested by her brother?' then yes it's possible but quite how she got into that position I can't say."
Coroner Mr Bashir said: "In the circumstances the only possible explanation that can be given in this case was a hole in the hoodie and Kimora was in the hallway with her head close to the the handle to allow her to get caught on the handle, was unable to extricate herself in the second it would take to lose consciousness, and death quickly thereafter."