Horses helping domestic abuse victims in Wales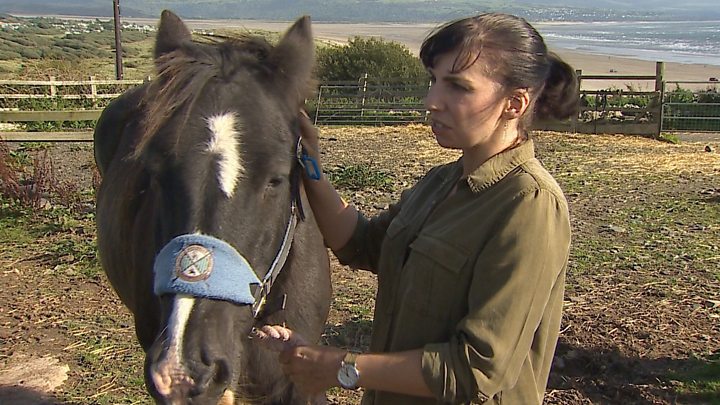 "It was horrendous. I'd been in a violent relationship for 26 years. If I'd stayed there - I'd be dead."
This survivor's voice is the stark reality of domestic abuse facing an estimated two million women and men across Wales and England.
For those who survive, the scars - physical and emotional - remain.
It is why special therapy sessions at a seaside beauty spot were established - to help heal those scars with the help of horses.
Overcoming obstacles has been developed to help women and girls who have survived domestic abuse regain their confidence and learn how to build positive relationships again.
It is the brainchild of the Welsh Institute of Therapeutic Horsemanship and Gorwel, the support service covering Anglesey and Gwynedd.
At an idyllic location close to Porthmadog's Traeth Morfa Bychan - Black Rock Sands - the survivors meet a selection of specially trained horses and learn the basics of agility and western trail riding.
"Almost everybody we work with has never really touched a horse before," explained equine trainer Lindsey Crosbie, who helps new recruits get to grips with their horses, in the Comic Relief-funded scheme.
"Sometime people are quite fearful of them. But all of the groups of women and girls that we've seen have developed in confidence so much that they've all gone on to ride - and do it successfully, which is amazing."
But how can horses really help as a therapy? A self-confessed "horse-whisperer", Ms Crosbie said it made perfect sense.
"To be able to work successfully with a horse you've got to be able to communicate clearly, remain calm, and also you've got to be a good leader," she said.
"For horse to trust you, you have to know where your boundaries are and be able to assert them, you've got to be kind, but you've also got to be assertive.
"It's a real sort of model of positive relationship building."
These are life skills that some of the projects users have literally had beaten out of them in an abusive relationship.
'If I stayed, I'd be dead'
At 57, she was saved from 25 years of violence in an abusive relationship. We have called her Sue as she still needs to keep her identity secret.
"If I'd stayed there - I'd be dead," she said.
"But these people rescued me and got me out of there. I'm much better - safe - I don't have to think about him now."
For Sue though, her confidence was shattered. She struggled to speak to people or get out of the house.
It was where Gorwel and the Overcoming Obstacles course came in.
"As a child, my sister used to take me horse riding, and I fell off this horse, and I'd been scared of horses ever since," she said.
"I wouldn't go near them, I wouldn't go in the same field as them.
"But going on this horse therapy has helped me overcome my fear. The end result was I got on the horse and I was confident."
And it is not just confidence with horses that has grown for Sue.
"It's helped me become a bit more outgoing than I was, I think. Before the horse therapy I was terrified, I wouldn't come out of myself."
It is not just the partners who suffer - it is also their children, who get helped by the courses.
"By the second or third week you see a lot of change - straight away, really - just to be able to communicate, to feel comfortable with the horses and with themselves, as well," said Katie Jones, who is a children and young persons worker for Gorwel domestic abuse services.
"It's a week-by-week process and it's amazing how much difference there is. By the end of the eighth week their confidence is just beyond, really.
"It may seem strange that an animal can help change their lives - but it can. It's about underlying relationships that they get with the horses that benefits them in their lives. They need to be confident in their selves to lead the horse around. It's a major life concept for them to achieve."