Nicholas Churton murder: Frustration over murder investigations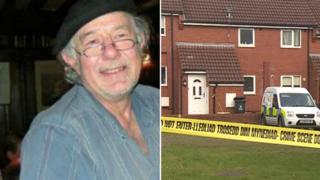 The murder of a disabled man by a released prisoner should be reviewed by an independent inquiry, an MP said.
Jordan Davidson, of Wrexham, is serving 30 years in prison for killing Nicholas Churton, 67, with a machete and hammer.
While it happened in March 2017, Wrexham's MP Ian Lucas said he has "grown frustrated" with the pace of two separate Independent Office of Police Conduct investigations.
An IOPC spokeswoman said it would update Mr Lucas in the coming weeks.
The investigations are looking at contact between Mr Churton and police in the days before he died.
It is also assessing the police and probation service's contact with Davidson after he was released from prison.
"I want answers from the police and probation service but, so far, I simply haven't received any," Mr Lucas said.
"Basic facts are not being made clear to me or the public, and the north Wales police and crime commissioner is doing nothing to hold the police to account on the matter.
"The murder of Mr Churton took place 16 months ago yet I'm still in the dark about how a dangerous criminal such as Jordan Davidson was not sent back to prison, leaving him free to commit this terrible crime."
As well as admitting murder, Davidson, who was on licence, also pleaded guilty to other charges including two burglaries, a robbery, an attempted robbery, attempted grievous bodily harm and actual bodily harm on police officers.
The court heard most of the crimes were committed in the days around the murder and were attacks on older men.
He was out on licence living near Mr Churton when the offences happened.
Davidson had a long list of previous convictions but despite this, was bailed after being arrested for possession of a knife days before the murder.
Mr Lucas wants to to know why the defendant was not sent immediately back to prison.
He has written to prisons minister Rory Stewart calling for an independent review, saying he is frustrated with the IOPC investigations.
"I want to be sure measures have been put in place by the police and probation service to ensure something like this cannot happen again," he added.
"Mr Churton's family have a right to known what went wrong, and so do my constituents.
"I feel we need an independent inquiry into this case where the full findings are presented to the public - it is the only way to get the answers I am looking for."
Mr Lucas secured a Westminster debate on the case in June.
Home Officer minister Victoria Atkins told him improvements were being made after "significant failings" were identified in a review by the Wales Community Rehabilitation Company.
The full findings, however, have not been made public.
IOPC Director for Wales Catrin Evans said: "We are committed to carrying out two thorough investigations into North Wales Police actions in relation to the murder of Nicholas Churton.
"Our first investigation into contact with Mr Churton prior to his death is nearing completion and our second investigation, which began in May, looking at the prior arrests of Jordan Davidson is ongoing.
"It is our role to investigate police actions and decision-making and we do not have any remit over the Probation Service."
Arfon Jones, the North Wales Police and Crime Commissioner, said: "Mr Lucas knows full well there is an investigation under way by the IOPC and it would be wholly inappropriate to discuss the matter before the investigation is concluded."