'Concern' over future of Wrexham disability work scheme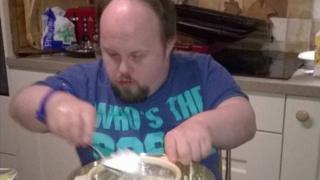 After leaving hospital following open heart surgery, a man with Down's syndrome immediately thought "good, I can go back to work tomorrow".
Martin Grice's mother said working at Alyn Waters country park has built her son's self esteem and confidence.
Wrexham council currently gives 65 people with disabilities and learning difficulties unpaid work placements at places like the park's cafe.
But it is considering closing the service by 2020 to save up to £460,000.
Details will be discussed later at a council meeting, with a promise the situation will be "managed sensitively".
Of her son's job, Jackie Grice said: "It's important to us all but especially to someone who has found life difficult.
"He has a range of disabilities and to find that niche and find some success in what you're doing is very important."
Mr Grice, 36, from Banger-on-Dee, has worked at the cafe for 10 years, two days a week.
While he started off just making sandwiches, he now prepares scones, serves customers, takes payments and works the tills.
"He has developed a good range of skills and loves going to work," Mrs Grice said.
"Martin had two illnesses and was in hospital for two weeks having open heart surgery.
"But as he was about to be discharged, he said 'Good, I can go back to work tomorrow'."
Mrs Grice said he gets "uncomfortable" when he does not have a routine.
"If we don't have something to get up for, to be valued for, what are we going to do?," she added
"I'm worried he may withdraw into himself."
'Recognise the anxiety'
The council needs to make wide-ranging savings, including £13m in the next two years.
While none of the scheme's placements are paid, those who work on it receive a bonus, with the bulk of expenditure coming from related management and support roles.
Councillor Joan Lowe, lead member for adult services, said concerns and feedback would be considered before a decision is made.
"We fully recognise the anxiety that this review and any potential changes will cause for individuals and their families," she said.
"Any changes that are brought forward will be managed sensitively with the people we support."