Borth Wild Animal Kingdom agrees £350,000 debt repayments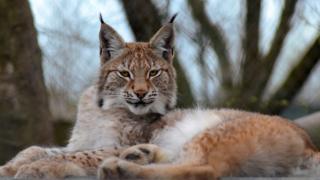 A Ceredigion zoo where two lynx died within days of each other has agreed to pay off debts of around £350,000.
Borth Wild Animal Kingdom is now subject to a voluntary arrangement with creditors after a reprieve from a winding up petition, the High Court heard.
As a result the court, sitting in London, dismissed the petition.
The zoo, at Ynisfergi, has also recently had its ban on keeping dangerous animals reversed.
The Insolvency and Companies Court had originally given the zoo a 42-day reprieve from being wound up last month to allow it to try and sort out its debts, which total £344,376.06.
The petition came from one of its creditors, Grenke Leasing based at Guildford, Surrey.
Problems began for the park when it was banned from keeping certain animals including wild cats, following the deaths of the lynx in October 2017.
First, a Eurasian lynx called Lilleth was shot dead by a marksman days after it escaped from the zoo despite attempts to recapture it.
Then a second lynx, Nilly, later died days later following what the zoo described as a "handling error".
The zoo remained shut until February while the owners met the conditions imposed on them following the deaths.
The ban on keeping dangerous "category one" animals was then lifted by Ceredigion council in July on the condition a qualified and experienced keeper was employed.
The park's owners claim the animals come from other zoos when they are no longer wanted or from owners who can no longer manage their exotic pets.
The aim, they say, is to provide the animals with a safe place to live for the rest of their lives.