Cardiff mum's plea after daughter abducted by dad in 2012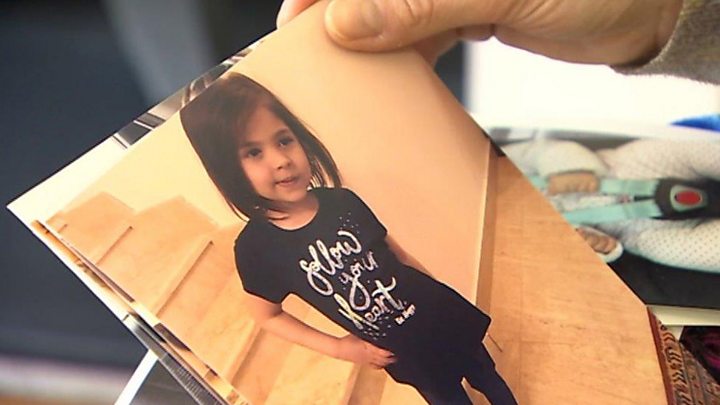 A mother whose baby daughter was taken from her at 15 weeks old is fighting for her to be returned six years on.
Talia Szymanowicz was abducted and taken to Libya by her father in 2012 and mum Gosia wants her back in the UK.
"I know it won't be easy but with help we will be together," said Gosia, who speaks to her only child via Skype.
Her local MP in Cardiff wants the government to step in and do more. The Home Office said it did not routinely comment on individual cases.
"My daughter should be with me and I should be with my daughter," Gosia said. "With love everything is possible."
But the situation is complicated.
Gosia's estranged husband Maher Belaid was jailed after returning to the UK alone and failing to reunite the little girl with her mother, leaving Talia instead with her grandmother near Tripoli.
He has now been released and facing deportation.
As for helping Talia - who has a British passport - the Foreign Office (FCO) says because it has no consular presence it cannot help British people leave Libya.
Security in the north African country is regarded as so fragile, with terrorist attacks "very likely", that the FCO has consistently advised against all travel to Libya since 2014.
Talia was just four months old when her father took her to Heathrow Airport. It was while his wife was shopping in Cardiff, ahead of a planned family trip to see Gosia's mother in Poland.
When Belaid did not return as planned, Gosia spent the night phoning the police and hospital emergency departments, fearing something had happened to them.
At 23:00 her husband called to say he was in Tunisia, and Talia was safe.
"That moment, I just started to scream - to shout," she said. "The 13th of November 2012 changed my life."
Since then Gosia has been doing all she can to bring her daughter home.
When I go to sleep I just think 'what is she doing and who is dressing her now?' Every day I think about Talia
Belaid returned to the UK alone in 2014 and was arrested at the airport. He was jailed for six years for failing to comply with a court order to return his daughter, who has remained with Talia's grandmother near Tripoli.
He was released in August last year after serving half his sentence and was told deportation proceedings would be deferred for 12 months, to allow time for Talia to be returned to the UK.
You may also be interested in:
Man rescued from air pocket in shipwreck
WATCH: Gay girl's suicide prompts church changes
As progress has not been made, Gosia - who works as a carer - is now concerned that her estranged husband will be deported, removing any chance of her being reunited with her daughter.
But in March after four years without contact, Gosia has been able to have regular Skype conversations with her daughter - thanks to the Reunite charity.
Now six, Talia speaks Arabic, with only a little English, so Belaid translates the three-way conversations from his home in London.
"When I first saw her I was very nervous about how she would be, because she doesn't know me," said Gosia.
"I thought maybe she wouldn't like to speak with me - but I was happy and surprised she spoke with me and she gave me lots of kisses, and made a heart with her hands.
"Every day for me is very difficult because when I go to sleep I just think 'What is she doing and who is dressing her now?' Every day I think about Talia."
It has been hard for Gosia to hear her daughter call someone else "mum" and she knows a reunion will be tough for everyone.
"I know it won't be easy but with help we will be together."
Jo Stevens, the Labour MP for Cardiff Central wants the Foreign and Justice Secretaries to look again at the case.
"Time is running out," she said. "There is a court order that requires Talia to be returned to the UK, and so if the ex-husband is not prepared to do that, all options should be on the table in terms of returning him to prison.
"It needs political will, it needs legal experts involved - part of the problem has been a lack of availability of legal aid and I make an appeal, if anyone has expertise and can help, please get in touch with me, we need all hands on board to help get her home.
"It makes me angry that someone can flout the law here, that foreign countries don't abide by international human rights. At the centre of this is an innocent child that has not been able to see her mother."
A Home Office spokesman said: "All removal decisions are made on a case-by-case basis, with the individual circumstances of each case given very careful consideration."