Pendine Sands to get £7m museum of speed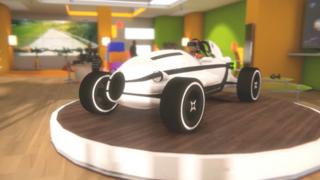 The beach where Sir Malcolm Campbell broke the land speed record in the legendary Blue Bird is to be the site of a new £7m visitor attraction.
A "Sands of Speed" museum and a 420-bed hostel will cater for fans visiting Pendine in Carmarthenshire.
Councillors approved the project backed by EU and Welsh Government funds.
However, one councillor queried the speed of development, noting that the existing museum - facing demolition - was only built in the 1990s.
There were five land speed record bids at Pendine between 1924 and 1927.
Sir Malcolm made three record attempts in total - the quickest in Blue Bird in February 1927 where he reached 174.22mph (280.38 kmph).
Welshman JG Parry-Thomas made two attempts in his car Babs - but became the first driver to be killed in a world land speed record attempt driving at 170mph (270 kph) in March 1927.
Most recently, a motorised shed took to Pendine Sands on Sunday where it broke its own land speed record with a time of just under 101.6mph (163.5kph).
Carmarthenshire council has been working on a regeneration plan to address the "physical and commercial decline" of Pendine on the Carmarthen Bay coast since 2010.
A new £800,000 promenade and a £1m commercial block with public toilets and external showers have already been built.
Plaid Cymru councillor Carys Jones expressed concern that the existing museum - named after Parry-Thomas - is be demolished despite only being built in the 1990s.
"Is that how long we expect buildings to last these days?" she said.
However, she was told the existing building had a problem with direct sunlight which had the potential to tarnish the paintwork of its exhibits.
The new attraction will also include an area for beach games and a children's adventure playground.
Labour councillor Ken Lloyd said: "This development is going to increase tourism in Pendine. I'm just wondering that there's enough [parking] spaces if it really takes off."
Work is scheduled to start in November after a habitats regulations appraisal.