Mother's miscarriage campaign goes to Welsh Government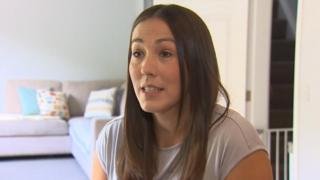 A mother-of-one is "hopeful" of securing more help for women who suffer miscarriages after taking her campaign to the Welsh Government.
Jessica Evans, from Llangollen, said she took action after being refused a referral to a specialist consultant in Wales after losing four pregnancies.
She and other campaigners handed over a report to officials seeking access to specialist care and more compassion.
The Welsh Government said bereavement care and support was key to services.
Ms Evans said: "They seemed very keen to work with us."
The 24-page report, Making the Case for Better Miscarriage Care in Wales, outlines perspectives from women about the care they had received after having a miscarriage.
It also makes 11 recommendations for improvements, including putting a system in place to ensure women are receiving a greater level of psychological and emotional support and the creation of two dedicated recurrent pregnancy loss clinics in Wales.
"They listened very carefully to what we had to say, they'd read the report with care," said Ms Evans.
"We know that this is going to be a long process and nothing is going to change overnight but we do feel that there is scope for change."
Ms Evans said she started her campaign with an online petition calling for better miscarriage care after she was refused a referral to England to a specialist clinic.
She eventually had treatment at a centre in Coventry after she registered as a temporary patient in Shropshire where she works.
According to charity Tommy's, which runs the Coventry centre, one in four women will experience a miscarriage.
Boss Jane Brewin, who was also at the Welsh Government meeting, said: "Things aren't perfect in England, but I think it's also fair to say things could be a lot better in Wales.
"Specifically, there are no specialist services for women who suffer recurrent miscarriages in Wales."
Carys Williams, 39, from Llantwit Major in the Vale of Glamorgan, knows the pain and distress of miscarriage after having four.
Ms Williams, who has an 18-year-old son, Jordan, describes a lack of empathy and support after being told there was no heartbeat during a pregnancy scan 2015.
"I was asked to move to a side room where I just cried alone for around half an hour until I could manage to drive myself home, before being handed a leaflet and asked to leave.
"It took four weeks for me to actually miscarry that baby and nobody checked on me during that time," she said.
After her fourth miscarriage, she asked for a thorough health check to find out what was going wrong.
"Apparently, if I had lived in England, I would have been referred to a dedicated recurrent miscarriage clinic after my third miscarriage," she said.
"I was just referred back to the regular gynaecology department.
"I have done three years of in-depth and obsessive research because it is so important to me."
She has also spent thousands of pounds paying for tests herself.
The issues are all too familiar to Denbighshire GP Dr Annik Cummings who explained that referring over the border was complicated, especially as only gynaecologists can make such referrals and the waiting lists to see them can take nine months.
"I don't think it's ideal," she said.
"In Wales there are a lot of pathways that are a bit complicated and the border is definitely one more hurdle for Welsh patients."
She also said emotional support was lacking.
"There is counselling through the NHS but the waiting times are very long and, as a rule, we don't offer them for miscarriages.
"I often sit here with ladies who just want to have a chat...to legitimise their grieving and their pain and what they are going through."
A Welsh Government spokesman said it expected local health boards, which manage NHS care in Wales, to "ensure women have access to the right service with the right level of expertise as close to home as possible".
"Compassionate bereavement care and support is also a key part of this provision," he said.