Carmarthen Roman dig is filled in after key findings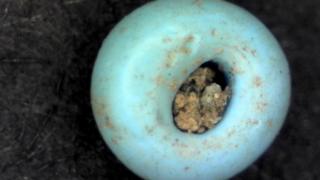 An archaeological dig described as one of the most important in Wales has now been buried again and handed back to developers.
Archaeologists have spent three months sifting the site on a main street in Carmarthen, making substantial finds.
The dig was a condition of planning permission for a block of flats there.
As a result Archaeology Wales now believes Roman Carmarthen was established earlier and was a wealthy town of considerable status.
Its team moved in after developers had demolished a former car showroom and before they started work building homes for the Bro Myrddin housing association.
Almost 2,000 years earlier, Priory Street had been the main road into the centre of Roman Carmarthen, running from the town's amphitheatre.
A dig carried out nearby in the 1980s before a school was built had already revealed the street was lined by timber-built shops where pottery, glass and metal goods would have been sold.
"It's remarkably similar to a row of shops you would see in the town today," said project director Phil Poucher.
Archaeologist bets life savings on finding lost city
Bouncer unearths possible Roman town in Merthyr Tydfil
Two months into the dig the team thought they had reached the early years of the Roman shopping street and were not expecting to find much more. They were winding down.
But then at least another two lower levels of even earlier timber buildings and hearths were unearthed, along with coins that would have been lost by the shoppers and traders.
They still need to be dated exactly but they are thought to be early 2nd Century.
"If we can relate the coins to these buildings then we may have some of the earliest evidence of settlement in Carmarthen, part of a settlement connected to the fort," said Mr Poucher.
"This may finally be more definitive evidence that the Romans came to settle earlier than we'd perhaps thought."
Tantalisingly for the archaeologists, they uncovered just one end of a substantial stone building with painted plaster walls.
The rest of what would have been a high-status building though remains buried under a side street.
The team were also surprised by the "sheer quantity and quality" of the pottery they unearthed, shipped in from across the empire.
"It is clear that Carmarthen was no backwater on the outer edge of civilisation, but a town of status that was fully connected to all aspects of the empire," said Mr Poucher.