Mating puffins delay Brecon's Brecknock Museum work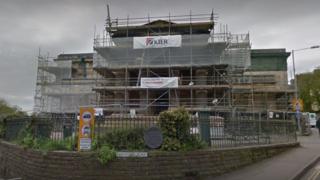 Work to turn a 177-year-old museum into a library has been delayed because of breeding puffins.
Brecknock Museum and Art Gallery in Brecon, Powys is being converted into the new facility, known as Y Gaer.
Work on the £13m project - which will include a library, cafe, community space and function rooms - started in 2016.
But it was held up when stone needed for the project could not be accessed as it was close to a puffin sanctuary.
Brecon councillor Matthew Dorrance said: "It was delayed as the stone couldn't be quarried while the puffins were breeding."
The development has received funding from the Welsh Government and the Heritage Lottery Fund and was due to be completed by the end of this year.
A spokesman for Powys council said it now hoped to hold a soft opening early in the new year.