Roadside litter: Who should pick up the bill?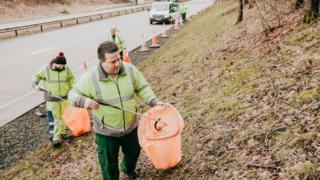 A row has broken out over who is responsible for clearing litter from some of the busiest main roads in south Wales.
Monmouthshire council said verges on the A40, A465, A48 and A4042 are now only cleared twice a year by the South Wales Trunk Road Agent (SWTRA).
Senior council officers said they had to take on extra clean-up work without additional funding.
The Welsh Government said it was the council's responsibility.
SWTRA used to pick up litter on trunk road verges before mowing them several times a year until its funding was cut, according to the Local Democracy Reporting Service.
Carl Touhig, head of Monmouthshire council's waste and street services, said: "We've been asked to clean these roads without a budget and we've been told that these were always our responsibility.
"It's unfair to say SWTRA don't work with us but we're hitting a bit of a brick wall with Welsh Government."
In March, the council said it cost £50,000 to make one collection of litter across its trunk roads.
Tom Ward-Jackson, Monmouthshire project officer for Keep Wales Tidy, said road closures to allow volunteer groups and local "litter champions" to help were a possibility.
"We're all in favour of empowering and enabling people, but with fast traffic it's a tricky one," he said.
Owen Dodd, a litter champion and chairman of Goetre Fawr Community Council, said: "I'm more than happy to be part of the solution.
"The time spent by the council picking up this litter is time it could have spent on other things."
A Welsh Government spokesman said it was "committed to maintaining the safety of the road network around Wales and working with local authorities to minimise harm to the surrounding environment".