Bodelwyddan Castle Trust concern at decision to sell site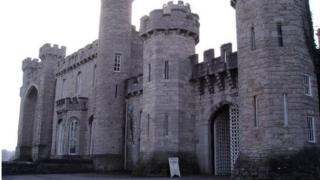 A charity which runs a top tourist attraction in Denbighshire is unhappy at a council decision to sell the site.
Warner Leisure Hotels has been in talks over the future of Bodelwyddan Castle, where it already has a hotel in the grounds.
Denbighshire council's cabinet agreed last week to sell the castle.
But the Bodelwyddan Castle Trust, which runs the castle as a museum and art gallery under a 125-year lease, said it had not been notified.
The 19th Century Grade II*-listed building was bought in the 1980s by the former Clwyd County Council who turned it into a visitor attraction, now run by a charitable trust.
Denbighshire council has cut the trust's annual grant of £144,000 and has now decided to press ahead with a plan to sell the site.
The freehold sale includes the castle, lawns and event arena.
The council will retain the woodland and parkland, which includes reconstructed World War One trenches.
The trust said the council cabinet "seems to overlook that Bodelwyddan Castle Trust holds a 125-year lease on a large part of the property at Bodelwyddan Castle".
"The council has no choice but to sell the freehold interest in the area held by Bodelwyddan Castle Hotel if so demanded by Bourne Leisure [parent company of Warner Leisure Hotels] under the terms of their lease.
"Beyond this, it is the trust and not the council that will determine what will happen to the remaining property on the estate."
Warner Leisure Hotels confirmed in July 2017 it was in discussion with the council about future plans for the castle, but a spokeswoman told the BBC on Tuesday there were "no further developments".
The council has not responded to requests for comment.