London violence: Cardiff Model 'key' to tackling problem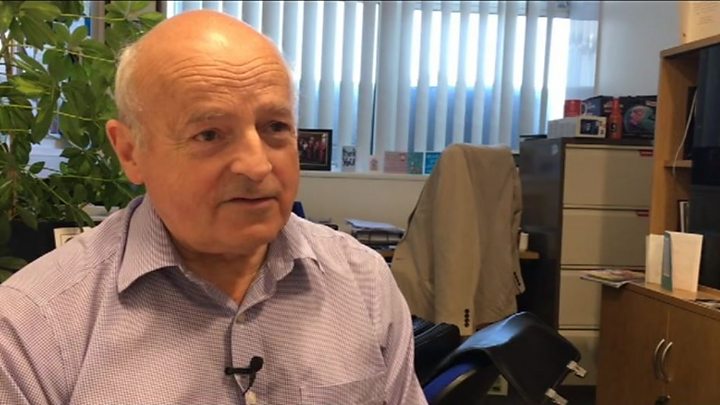 Hospital A&E departments hold the key to tackling violence in London, the man behind a pioneering project has said.
The Cardiff Model for Violence Prevention has been used in 29 London hospitals for several years after being developed in Wales's capital city.
The scheme gathers details anonymously about incidents which reveal "hotspots" such as drug dens unknown to police.
Now, the model is being rolled out fully, with a new unit set up to act on the information gathered.
London Mayor Sadiq Khan said the new multi-agency Violence Reduction Unit would use the shared hospital information and also focus on "early interventions" involving schools, healthcare professionals, councils and the police.
Prof Jonathan Shepherd, who came up with the Cardiff Model, said this was the final step of the London roll-out, which up until now has only been gathering data.
"It's really important that this new unit addresses specific violence problems in London," said Prof Shepherd, whose model was behind the introduction of plastic pint glasses in bars and live CCTV.
"City violence prevention boards need to be able to understand and then respond to the particular challenges which information, data or intelligence reveal."
What is the Cardiff Model for Violence Prevention?
Developed in Cardiff, and launched in 1997 to fill gaps in police knowledge by anonymously gathering information at hospitals from victims of violence
Information is collected at A&Es about where people were injured, which street, school, park, or licensed premises, types of weapons used and the time and date
Information is shared with police and local authorities but not a patient's information
A violence prevention board brings police, health, local authorities and the voluntary sector together to devise an action plan to tackle issues
Prof Shepherd added: "It's all very well collecting and sharing information but on its own, neither of those things is going to prevent any violence or injury at all.
"The important key thing is that the information is acted upon if it's going to make any difference.
"I think it's perhaps unfortunate that it needs a crisis like the knife crime and homicide in London to really accelerate the adoption of something like this."
Prof Shepherd said London's 29 A&E departments started gathering data in line with the Cardiff Model when Boris Johnson was the mayor.
"One of the surprise findings was that there was a drug distribution point that hadn't come to the attention of police or local authorities," he said.
"But with the Cardiff Model data it was quite clear there was a new hotspot here, which turned out to be a crack house.
"When there's an injury, even a death, it's not going to be reported by them to the police because they're involved in serious illegal activity.
"But gang members go to A&E to get their injuries treated and it's an opportunity to collect information relevant to tackling gang violence and other gang activity."
Prof Shepherd said the latest move will provide a step forward in reducing violence.
Mr Khan said he did not expect the Violence Reduction Unit to "deliver results overnight".
"The causes of violent crime are many years in the making and the solutions will take time. That's why our new approach is focusing over the long-term," he said.