Abergavenny footbridge 'once-in-a-lifetime opportunity'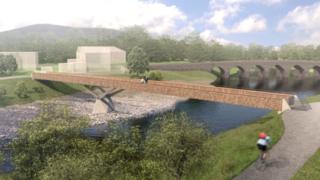 A new footbridge for pedestrians and cyclists described as a "once-in-a-lifetime opportunity" has been approved by Monmouthshire councillors.
The 60m structure over the River Usk at Abergavenny will provide a safer crossing than the Llanfoist bridge, which dates back to medieval times.
Questions had been asked about the narrow footpath on the Grade II-listed bridge which carries the A4143.
The Welsh Government is giving £864,000 towards the cost of the bridge.
Conservative councillor Giles Howard said the old bridge would remain "the star" but described the new crossing as a "vital alternative to a substandard footpath".
"In some respects, it's a once-in-a-lifetime opportunity," he told a planning committee on Tuesday.
"That pavement is so narrow, people of all ages are within a hair's breadth of the wheels of articulated lorries as they go thundering past."
Labour councillor Roger Harris said of a recent site visit: "When the articulated lorry went by it really was quite frightening, and anyone with loose clothing could've quite easily been dragged into the road by it."
Councillors were met on Abergavenny Bridge by a resident who claimed that there had not been any accident on it during the time they had lived there, according to the Local Democracy Reporting Service.
But Conservative councillor Phil Murphy told the committee: "I certainly wouldn't want to be party to turning it down then waiting to see if there is one."
The Welsh Government is hoping its funding for the project linking Abergavenny with Llanfoist will help promote its policy of active travel.