'Fred West' rape couple victim's concern over evidence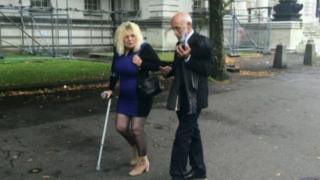 A victim of the couple dubbed the Fred and Rose West of Barry wants an independent investigation into why evidence she gave South Wales Police nearly 20 years ago went missing.
Peter and Avril Griffiths were found guilty last month of raping girls.
Two of their victims said they believed the couple were part of a paedophile ring, which included police officers.
Police said fresh allegations of contact between officers and Peter Griffiths are "being investigated."
"Since the trial further information has been reported to police and is currently being investigated," confirmed a spokeswoman for South Wales Police.
It has previously said it investigated allegations of contact between police officers and Peter Griffiths, 65, who raped and indecently assaulted young girls with his wife, 61, in the 1980s and 90s.
But no evidence of wrongdoing was found.
The force said there was no information to suggest any "collusion" or "malice" in terms of the missing evidence.
Meanwhile, the force has confirmed one more woman has come forward alleging she was abused by the Griffithses.
During the trial it was alleged police officers were present at a sex party on a boat where one victim was raped, and that she was threatened into silence.
She told BBC Wales her abusers said "they were the law" and that no-one would believe her if she came forward.
The woman, who cannot be identified, reported allegations to police in the early 2000s, providing officers with a photograph of her posing topless alongside the Griffiths' and naming other abusers involved in the "paedophile network".
She said she warned officers at the time that the evidence would "fall into the wrong hands" if it was not kept safe.
"I told them I was worried that this evidence would get lost because there were police officers involved," she said.
The woman said she was assured it would be kept in a "safe place", but the trial heard that none of the evidence from the time could be found, and that some was destroyed.
Jurors heard the Crown Prosecution Service in the early 2000s advised that no prosecution should be launched against the Griffiths'.
While praising the work of detectives now for bringing the couple to justice, the victim said she wanted the police watchdog - the Independent Office for Police Conduct (IOPC) - or another police force to investigate what happened to the missing evidence.
The woman said: "I'm angry, I want to know where it went, I want to know who made it disappear and why, I want it brought out so that other people who are criminals can get convicted as well."
A police spokesman said some of the evidence was lost after the bottom floor of a police station was flooded and that if they received a complaint about lost evidence they would look into it.
But he said there was no further evidence to support an investigation into allegations other people were involved in a paedophile network.
The woman said her life, and the lives of other victims, "could have been saved" if Peter Griffiths had been stopped sooner.
She believes there were "many, many missed opportunities", including when, as a 14-year-old, she told a social worker about the abuse.
No action was taken, she said.
She said she was angry as she could no longer remember many of the names or details she gave to police in the early 2000s.
The court heard police found more photos in 2004, but that no prosecution was brought.
The woman said she was abused in the Griffiths' home, on a boat and in a van they owned. Jurors heard she was used as a "plaything".
She told BBC Wales she believed she was abused by a paedophile network that would organise their crimes through CB radios, with each of the abusers identified by their own CB nickname or "handle".
"They were like mobile phones in those days, they were constantly in touch with each other, I wish I could remember their handles," she said.
"They would introduce themselves through their handles and then speak."
She said she believed there were "many" more victims and is now urging them to come forward.
South Wales Police said their investigation into a possible new victim was in the "very early stages", but that the woman approached officers following publicity from the trial.
A spokesman said she was being supported through the investigation.
Another victim, who likened the Griffiths' to Fred and Rose West in court, told BBC Wales she believed a possible link between the two couples should be further investigated.
The woman, who said she was raped by the couple in their home, cannot be identified. She said: "It's a similar case, she got the girls in for him."
Fred and Rose West, who lived in Gloucester, holidayed in Barry regularly and would stay at holiday camps in the area. The court heard Peter Griffiths would take holiday makers from the camps out on fishing trips.
The couple also shared an interest in having sex in front of others in car parks, known as dogging.
Fred West's ashes were scattered into the sea off the coast of Barry.
The Griffiths' victim said she believed there may be a link: "I'm pretty sure if you dug deep enough they'd know each other, because they used to come over to Barry Island, and he used to go over to Bristol a lot.
"I'm pretty sure their paths would have crossed."
South Wales Police said there was "no evidence of any links between the Griffiths' and Fred and Rose West".
The IOPC said it would be the responsibility of the force to refer itself if it believed any matters needed to be investigated.