Views sought on £11m Aberystwyth coastal defence plans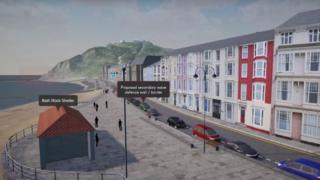 Residents of Aberystwyth are being asked for their views on an £11m coastal defence scheme and improvements to the town's Victorian promenade.
The university town's seafront was devastated by a storm in January 2014 and the sea wall has been described as "old, tired and brittle".
Ceredigion council has unveiled plans it hopes will protect the town from rising sea levels and severe weather.
The chosen designs include a secondary wave defence wall on the promenade.
Some parts of the wall will have small sections that can be removed or put in place as needed so that "access can be maintained and the visual impact minimised", a report said.
It is hoped the scheme will reduce the amount of sand and stones thrown up onto the promenade and reduce the likelihood of severe flooding.
The council believes the scheme will take eight to 12 months to complete, although it suggested construction could be phased.
Once the consultation is complete, the council will submit its plans to the Welsh Government for consideration as it is expected to finance 75% of the project.
The current defences will then be investigated fully before more detailed design work takes place. A further consultation will then be held.
"The ability of the current coastal defences to protect Aberystwyth is becoming less effective as climate change takes effect and sea levels rise," the council said in a statement announcing the consultation.
"Recent severe storm events have seen damage to the coastal defences and large amounts of sand, stones and water thrown up on to the promenade.
"In response we have been looking at how we might be able to improve the coastal defences."