Petition to make BSL first language for deaf children in Wales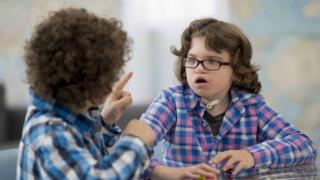 A petition for British Sign Language (BSL) to be recognised as the first language of many deaf children in Wales has been submitted.
Deffo! Cymru, a forum for young deaf people in Wales, wants the Welsh Government to widen access to education and services in BSL.
The petition gathered 1,162 signatures and the National Assembly's petitions committee has recommended changes.
The committee's report will now be considered by the Welsh Government.
One of the report's recommendations is the development of a national charter for the delivery of services, including education, to deaf children, young people and their families.
BSL is currently recognised as a minority language by the Welsh Government.
The report also suggests giving children at all levels of education a chance to learn BSL, and asks the Welsh Government to continue exploring the creation of a GCSE first-language sign language qualification.
David Rowlands AM, chair of the petitions committee, said: "We believe that it is vital for parents and siblings of deaf and hard of hearing children and young people to be offered an opportunity to learn how to communicate through the medium of BSL.
"While recognising that it is up to local authorities and further education colleges to determine their own spending priorities, we are of the view that the Welsh Government could do more to guide local authorities to treat BSL as a language need, rather than a response to a medical need, which may help to reframe the conversation about adequate provision."