Cardiff Half Marathon bosses 'satisfied' with medical plan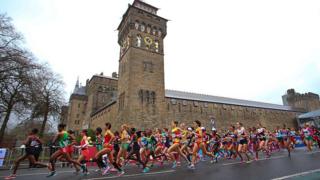 Organisers of the Cardiff Half Marathon say they are "100% satisfied" in their medical plan after two runners died at Sunday's event.
The pair, aged 25 and 32, went into cardiac arrest after crossing the finishing line within three minutes of each other, at about 12.25 (GMT).
The men have not been named but their next-of-kin have been notified.
Race organisers Run 4 Wales say they are "devastated" and will carry out a full review.
The men were treated after crossing the line, before being taken to Cardiff's University Hospital Wales.
Chief executive Matt Newman said: "The whole team is devastated and our priority is the families involved.
"We had a doctor and medical team at the finish line and were in attendance within seconds of the gentlemen collapsing.
"They were able to take both to the primary medical centre 20 metres from the finish line and quickly transferred to hospital."
About 20,000 people took part this year, on the race's 15th anniversary.
'Perfect' conditions
A review will now be carried out by race organisers, as is standard practice each year.
Mr Newman said: "We are 100% satisfied that there was nothing more that could be done by the team at Run 4 Wales or the medical professionals in place on the day.
"We have a team of 10 doctors in place and a huge deployment of medics and St John's Ambulance around the 13.1-mile course.
"There's an almost full A&E unit at the finish line and the medical team acted in complete professionalism."
Earlier this year, a MasterChef contestant died after he collapsed during the London Marathon. In June, a 43-year-old man died during a triathlon in Barry after suffering a suspected cardiac arrest.
Some people have taken to social media to say more should be done to help prevent fatalities at mass-participation events.
Mr Newman said: "We know that on occasion people suffer with cardiac arrest but we absolutely make sure runners are informed of all the things they need to put in place from a health perspective.
"That includes training properly, being aware of any health issues and notifying us of those prior to the event."
Mr Newman added: "I spent yesterday with the families of the deceased. It was a horrendous afternoon and something none of us wanted to live through."
Officials said this year's event was the biggest yet and could be worth more than £2.3m to the local economy.