Ocky White revamp in Haverfordwest backed after price cut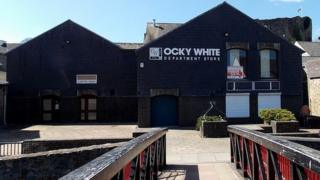 Council bosses have vowed to press ahead with a controversial plan to buy and renovate a former department store after the sale price was nearly halved.
One Pembrokeshire councillor had said it would be "bonkers" to purchase the Ocky White building in Haverfordwest.
The council cabinet said such criticism had helped cut the asking price for the site from £450,000 to £250,000.
Bob Kilmister, responsible for finance, said a close eye must be kept on renovation and running costs of £3m.
Ocky White was a popular west Wales shopping mainstay for more than a century before its riverside premises closed in 2013.
Pembrokeshire councillors questioned the cabinet's plan to buy and renovate the empty building at a total cost of £3.5m, with some claiming demolition would be a better option.
Paul Miller, cabinet member for economic development, restated his view that buying the empty store would "proactively regenerate this area of Haverfordwest on a scale that makes a difference".
He told the cabinet on Monday that the scrutiny committee's observations had helped cut the asking price for the building to a sum "significantly less than the original proposal", according to the Local Democracy Reporting Service.
The Ocky White building could be redeveloped for offices and a food emporium, but Mr Miller said all options were on the table - including demolition.
Cabinet colleague David Lloyd said the price cut was "tremendous" and proved "the democratic process is alive and working in Pembrokeshire".
Mr Kilmister, who had previously said he was "not convinced" by the plan, said the purchase price had been one of the key problems.
He warned that a close eye should now be kept on renovation and running costs that the council "cannot afford to have".