Pentre Ifan prehistoric monument daubed with graffiti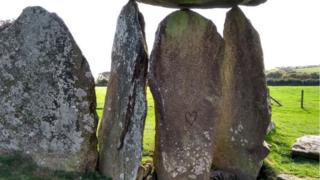 Vandalism is being investigated at one of Wales' most famous prehistoric monuments.
The standing stones of Pentre Ifan are all that remain of a burial mound near Nevern in northern Pembrokeshire.
Graffiti symbols have been painted on two of the standing stones.
Dyfed-Powys Police described Pentre Ifan as an ancient monument of "immense national and international significance" and said its investigation was a "priority".
The Pentre Ifan dolmen is formed of seven principal stones, the largest being the huge 5m (16ft) long capstone weighing an estimated 16 tonnes.
They date from around 3,500BC and would most likely have formed the entrance to a communal burial mound.
PC Esther Davies, of Dyfed-Powys Police's rural crime team, said: "We are saddened by the vandalism to the Pentre Ifan burial chamber.
"This is one of the most famous prehistoric sites in Wales and it is unacceptable that someone has thought to do this."
She said the graffiti had also caused significant damage to the lichens growing on the stones.
Dyfed -Powys Police says its officers will now carry out patrols together with Cadw wardens and national park rangers to protect other historic sites.
Inspector Roger Smith, the force's heritage crime liaison officer, said: "We take heritage crime such as this very seriously.
"Pentre Ifan is a scheduled ancient monument of immense national and international significance, and we are investigating the damage to it as a priority."
The graffiti attack has prompted numerous comments on social media.
Essex Havard posted: "It's ironic that a Stone Age monument should be vandalised by Neanderthals."
Ifan Morgan Jones said: "Archaeologists in 1000 years: 'And here we have some carvings created in what some are calling the moron age.'"
The heritage body Cadw will be dealing with the removal of the paint.
Police and the national park authority are asking anyone with information to contact the rural crime team by calling 101.