Former Llanelli MP Denzil Davies dies aged 80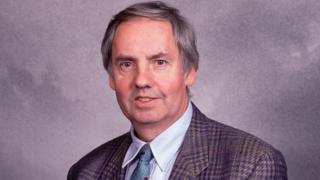 Tributes have been paid to former Llanelli MP Denzil Davies, who has died at the age of 80.
Mr Davies served for 35 years in the House of Commons, after being elected in 1970 and retiring in 2005.
He was also a minister in the Treasury under James Callaghan's Labour government in the 1970s.
Originally from Carmarthenshire, and with a degree in law, he was replaced as an MP by Nia Griffith, after she won in the election of 2005.
Ms Griffith said he was a "fine parliamentarian, combining his keen intellect with his great talent for speaking, and his command of the chamber in the House of Commons earned him the respect of MPs from all parties".
"He served the Llanelli constituency with distinction and commitment for 35 years," she said.
"On a personal level he was modest about his great ability and took time to engage in discussion with people."
First Minister and Welsh Labour leader Carwyn Jones tweeted: "Denzil Davies' passing is a tragic loss for Wales, Llanelli and the whole Labour movement.
"A man of principle and intelligence, he will be remembered fondly by all whose lives he touched."
Ann Clwyd MP for Cynon Valley said Mr Davies was "a quiet man of special ability" and Ynys Môn MP Albert Owen said he had been "at home in the commons chamber."
BBC broadcaster Huw Edwards called Mr Davies a "good friend over many years" whose "towering intellect and forensic legal ability terrified opponents".
"He never served in a Labour cabinet while far less able people did," he said.
"He was a true Welsh patriot and a true friend of Llanelli."
Paying tribute to Mr Davies on his Welsh language blog, BBC Welsh affairs editor Vaughan Roderick said his parliamentary career had initially been brilliant.
He wrote: "He was a Treasury minister in the government of Jim Callaghan and he would certainly have reached the cabinet had the long winter of Thatcherism not frozen Labour out of Downing Street.
"Denzil was one of those politicians who would have flourished in government, but found the opposition benches rather than a boring place to be with not enough to attract his interest or fire his imagination.
"That boredom, apparently, was partly responsible for the most curious event in his career, his late evening telephone call to Chris Moncrieff, the political editor of the Press Association at the time, announcing he had resigned from the shadow cabinet as Neil Kinnock turned like a wind cock about nuclear disarmament.
"Some of Denzil's political enemies set off a rumour that he didn't even remember making the call the next day. Denzil denied that at that time and ever since. I believe it.
"But he did not come back from that and Denzil did not get the place he deserved in Tony Blair's government."