Lance Armstrong Tour de France trophy 'offer' to Geraint Thomas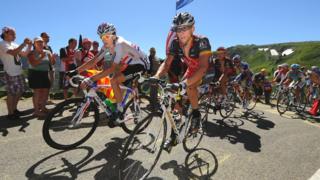 Lance Armstrong has joked that Geraint Thomas can have one of his Tour de France trophies after the Welsh rider had his stolen.
Thomas's Coupe Omnisports was taken from a display at The Cycle Show in Birmingham in September.
American Armstrong was stripped of his record seven Tour de France titles and banned from the sport for life in 2012 after admitting taking drugs.
He tweeted: "I got 7 of em if you wanna borrow one."
Armstrong made the comment as he retweeted BBC Sport's tweet about the trophy being stolen.
The Coupe Omnisports - presented each year to the winner of cycling's most famous race - was taken after Thomas's Team Sky loaned the trophy to sponsors Pinarello to display at The Cycle Show.
The black and gold handmade trophy was presented to the Cardiff rider this summer when he became only the third Briton to win the Tour de France.
It was put on display by Team Sky's Italian bike manufacturer Pinarello at Birmingham NEC between 28 and 30 September.
The trophy was snatched after being "momentarily left unattended" during the clear-up after the show.
"The trophy means a lot to me and to the team," Thomas said after it was stolen.