Sepsis inquest: Glangwili Hospital failures 'cost dad his dignity'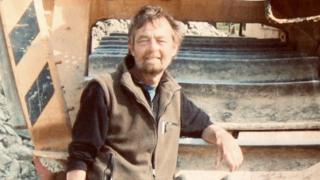 A 64-year-old builder died after lying seriously ill on a trolley for 18 hours in the emergency department of Glangwili Hospital, Carmarthen, an inquest heard.
Coroner Mark Leyton said Murray Vincent Quartermaine from Llandovery had died from sepsis.
His narrative verdict found he had not been seen "in a timely fashion".
In a statement, Hywel Dda health board unreservedly apologised for failings identified in his care and treatment.
Mr Leyton, the coroner for Pembrokeshire and Carmarthenshire, told the inquest at Milford Haven Town Hall that Mr Quartermaine's death on 17 December 2015 had originally been referred to him as from natural causes.
More stories about the impact of sepsis:
Derek Brockway meets Cardiff scientists fighting sepsis
Rachel Day died of sepsis 10 days after diagnosis
Sepsis: What is it and how to spot it
The inquest was held following a campaign by his family, led by daughter Josie Quartermaine who was unhappy at her father's treatment.
She told BBC Wales her father had been taken ill during dialysis and then admitted to Glangwili's emergency department suffering from pneumonia and hypoglycaemia.
When Ms Quartermaine visited him the following day she said she was told he had sepsis and found him "slumped on a trolley in an open bay in A&E". He died shortly afterwards.
The coroner said no post-mortem examination had been held but medical evidence at the two-day inquest had shown death was due to sepsis linked with pneumonia and hypoglycaemia.
Mr Leyton said expert evidence suggested Mr Quartermaine in all probability would not have survived but treatment would have improved his care and comfort in the final stages of his life.
Two independent consultants, Prof Peter Andrews and Dr Alan Fletcher both told the inquest there did not appear to have been the swift aggressive treatment essential for the treatment of sepsis.
Nurse Glenna Jones told the hearing she felt Mr Quartermaine should have been transferred to the high dependency unit.
After the inquest Ms Quartermaine read a statement saying the family were pleased the coroner had recognised the failings that preceded her father's death.
"We have always felt the hospital failed to realise how seriously ill our dad was or to recognise he had sepsis and provide him with timely and appropriate treatment," she said.
"We feel that these failures cost our dad the opportunity to have dignity at the end of his life and we hope that the health board will learn lessons from these events."
In a statement Hywel Dda University Health Board also apologised for the distress caused to Mr Quartermaine and his family.
Dr Phil Kloer, medical director and director of clinical strategy said: "We wish to reassure Mr Quartermaine's family that we have taken this matter extremely seriously.
"We have undertaken significant work over the past three years to improve our compliance with expected standards in sepsis monitoring and treatment."