Call to help end children's adoption wait in Wales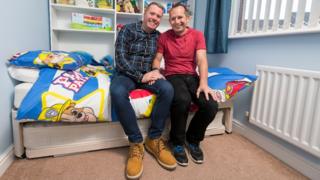 One in five children who need placing in an adoptive home in Wales have been waiting for over a year, says the body responsible for overseeing the process.
The National Adoption Service (NAS) said more prospective parents needed to come forward to help.
One couple who have taken that step said: "Don't be afraid of questions - ask and talk about it."
Mike and Tony hope to adopt a four-year-old, after becoming involved in a new scheme called Adopting Together.
According to the NAS, it is the first project of its kind in the UK to deliver a more targeted approach to finding families for children across Wales - especially those children who have been waiting a long time to be placed.
It hopes to appeal to the wider public, including those who may not have considered becoming adoptive parents.
The scheme puts together a detailed programme of information and support to help match prospective parents and children, and structured support during and after the adoption process.
It is being delivered across Wales, through voluntary adoption agencies such as St David's Children Society and Barnardo's, and will be supported and evaluated by Cardiff University.
ADOPTION
in Wales
314 children were waiting to be placed in a new adoptive home in June

63 of those have been waiting for more than a year

300 children were placed in new homes in 2017-18
Getty Images
It was at a meeting organised by St David's in early June that prospective parents Mike and Tony finally took the plunge, and formally entered the adoption process.
"It's a way to find out a lot more about that child than the bare minimum. You are not just reading about them - you are talking to someone who has met this child, potentially lives with this child, has cared for this child," explained Mike, who has been with his partner Tony for 14 years.
"You can find out what makes them tick, what sends them into a daze, what their favourite foods are, what they like first thing in the morning.
"It creates that picture of this child in your head before you have even met them, for what this child's needs might be."
Make 'informed decision'
The couple will learn in the next few weeks whether officials think they are a suitable match for the youngster they hope to adopt.
Mike urged others who might make suitable adopters to consider getting involved in the Adopting Together project.
"Don't be afraid to ask those questions, and find out the information," he said.
"You can make an informed decision yourself without any pressure."