Dad guilty of attacking son with hammer near Conwy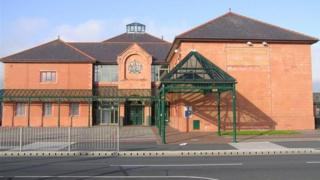 A man accused of hitting his son on the back of the head with a hammer intended to smash his phone as the 16-year-old had failed to "pull his weight", a court heard.
Llandudno Magistrates Court heard that the victim has been covered in blood when police arrived at Abergele.
Alex Fitzgerald, defending, said the 42-year-old has been "reckless."
District judge Gwyn Jones bailed the defendant for a pre-sentence report after he admitted the assault.
Mr Fitzgerald said his client had agreed to fix the boy's broken phone screen if he pulled his weight. But, when he didn't, the father decided to exact retribution on his phone.
He added that the teenager had been rushing aggressively towards his dad, who pushed him away. The handle of the hammer caught the boy's shoulder and made contact with his head.
District Judge Jones warned that jail was a "real possibility."
The boy cannot be identified for legal reasons.