Hollywood land claim: Fraudster jailed for £1m swindle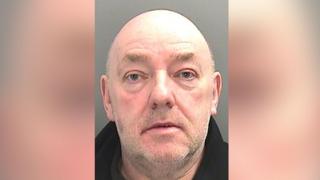 A man who defrauded a US businessman of £1m by boasting he owned some of the most valuable land in Hollywood has been jailed for eight years.
Keith Morgan, 61, of Church Village, near Pontypridd, told an investment manager a loan he received would be used to set up a field hospital for refugees in Turkey.
But he spent some of the money on cars, motorbikes and hotel and restaurants.
He was also given eight months for possessing a hunting knife in public.
Cardiff Crown Court heard Morgan pretended to be a man with significant funds who had told New York-based Wa'el Chenab he was a respected businessman with land in Hollywood which he hoped to develop, and that he had been in discussions with actor Tom Cruise about it.
He claimed he could provide a "standby letter of credit" (SLC) from banks, with the promise of large amounts of money to invest.
Morgan had told Mr Chenab he could provide his company with two SLCs from HSBC, one for $10m (£7.6m) and another for $200m (£152m).
You may also be interested in:
He spent around a quarter of the money on luxury items such as a £68,000 Jaguar, and transferred money to other accounts.
He was caught when his own bank spotted irregularities and he was convicted of fraud and money laundering last month.
'Fantasist'
Morgan failed to attend an earlier sentencing hearing and a breach warrant was issued for his arrest.
Police were called to offices in Assembly Square a day later when his car was spotted by an officer. When police approached Morgan, he threatened to harm himself with a hunting knife before handing it over after several hours standoff.
Sentencing, Judge Tracey Lloyd-Clarke said he was a "bankrupt, twice disqualified company director living in your father's rented accommodation".
She told Morgan: "It is clear to me you are a fantasist. You claimed to be one of the world's most wealthy men. You claimed to be some sort of agent of the US Treasury. You claimed to be connected to someone in the Saudi royal family.
"You have just enough knowledge of financial matters to be able to tell enormous lies."