Natural Resources Wales appoints interim chair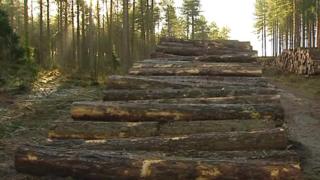 An ex-council boss with experience of helping troubled NHS trusts has been appointed interim chair of Natural Resources Wales (NRW).
Sir David Henshaw will oversee the environment watchdog's work for 12 months, starting in November.
Rural Affairs Secretary Lesley Griffiths said Sir David would bring "significant experience" to the role.
But Plaid Cymru said he was a "controversial figure" with no track record on the environment.
Sir David is a former chief executive of Liverpool City Council and has chaired the boards of several health service organisations, including the North West Strategic Health Authority and Alder Hey Foundation Trust Children's Hospital.
Ms Griffiths said he had previously been brought in to support a number of challenged NHS hospital trusts as an interim chair.
She added that his immediate priorities included building "more effective" ways of working, improving governance and overseeing the induction of new board members.
It follows repeated failures by NRW to offer timber grown on publicly owned woodland for sale on the open market, leaving taxpayers out of pocket.
NRW's previous chair Diane McCrea subsequently resigned.
Welcoming Sir David's appointment, NRW chief executive Clare Pillman said his "track record speaks for itself and I look forward to working with him in addressing some of our immediate and longer-term priorities".
However, Plaid Cymru said Sir David had no previous track record on the environment and had a "controversial" history of working in the public sector throughout the north-west of England.
Speaking in the Senedd, Llyr Gruffydd AM said: "In the same year [after leaving Liverpool council in 2006], he was appointed as chief executive to a north-west NHS trust. This prompted 22 MPs from the region to write an open letter saying they couldn't work with him.
"In 2010, he was appointed as chief executive of Alder Hey hospital, prompting the man tasked with rebuilding the hospital to resign in protest."
A recruitment process for a new full-time chair will get under way in early 2019.
A Welsh Government spokesman said: "This appointment has been subject to the approval of the commissioner for public appointments.
"This is a 12 month posting where David Henshaw's wealth of experience in governance will be used."