Potholes 'could be prevented' by road-repairing drone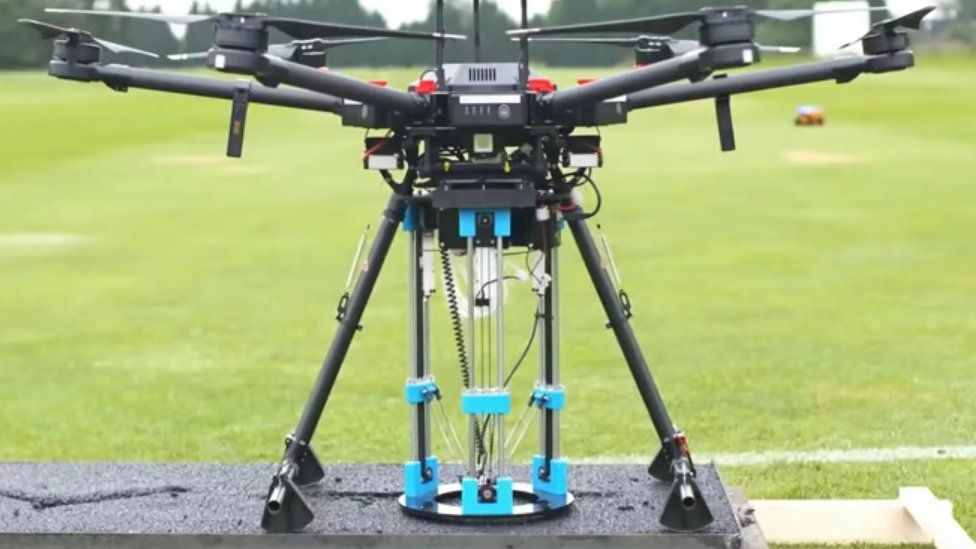 Drones that could prevent potholes by spotting and fixing cracks in roads have been proposed as a solution to a £40m repair backlog in Flintshire.
It comes after University of Leeds researchers demonstrated a drone that sprays asphalt via a 3D printer.
Roads chief Steve Jones said the council already uses lasers to detect defects and would look at using drones.
Cabinet member Carolyn Thomas said staff were "doing their best" to keep up with the demand for road repairs.
Leeds City Council is already working closely with the university, looking to pioneer the use of drones in a concept described as "self-repairing cities".
In Flintshire, Labour member Paul Shotton raised the idea when councillors discussed repair delays during an environment scrutiny committee meeting on Tuesday, the Local Democracy Reporting Service said.
He asked: "With technology moving forward, should we be considering the use of drones to aid our area co-ordinators?"
Mr Jones said: "I've never heard of that before, but we do have quite detailed electronic equipment that drives the roads and picks up the defects using lasers.
"We also have another set of tests that picks up the skid resistance of the roads.
"I've made a note of it though and will look into that."
Conservative councillor Owen Thomas from Cilcain was among those who complained that many potholes had not been fixed months after being reported.
Carolyn Thomas, the cabinet member responsible for roads, admitted the council did not have enough staff to keep up with demand.
"They are doing the best that they can," she said.
The committee backed proposals to relax the target for repairing potholes of more than 40mm deep from three days to five, although those posing a serious danger will still need to be fixed immediately.
Flintshire's ruling cabinet will make the final decision on that change of policy.
Related Internet Links
The BBC is not responsible for the content of external sites.